Kirstie Rice
We ask our female members 10 questions about their careers in biomedical science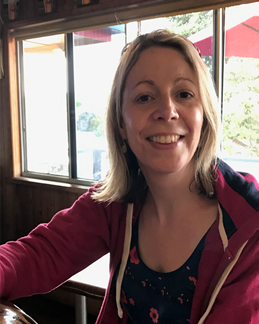 Kirstie Rice is a Consultant biomedical scientist in cervical cytology at New Cross Hospital in Wolverhampton. Last year she attained CSci status and became a member of the IBMS specialist advisory panel for cytology.
1. What made you decide to become a scientist?
At school I loved biology and knew I wanted to work in a related field but I wasn't sure what. I went on to study Biological Sciences at Lancaster University and really enjoyed the practical aspects of the course, in particular, the laboratory work involved in my dissertation. I knew then that I wanted to work in a laboratory.
2. Who has inspired you?
Mr Thorley my biology teacher at my high school sparked and developed my interest in the subject. He made the subject fun and interesting, explaining it in such a way that made it easy to understand – even the more complex or less interesting (for me) aspects such as the Kreb's cycle.
3. What has been the toughest challenge you have had to overcome in your career?
Once I graduated I didn't find a laboratory job immediately or easily. I had several part-time jobs in various areas of the service industry out of necessity rather than choice. I applied for a job in a research laboratory and was offered an interview. The interview went terribly and I wasn't offered the post. I subsequently saw the job being re-advertised and it stated that previous applicants should not reapply! I hadn't prepared well for the interview and although I realised this my confidence had been severely knocked.
My next interview went just as badly because I couldn't overcome my lost confidence. A few months later I applied for an MLA post in the blood transfusion service and I made sure to be well prepared this time and was successful. I really loved the job despite the low pay and nearly fainting on my first day due to the smell of the clotted blood!
This job really improved my confidence and helped me back on the science career route. I hoped to be able to train as a BMS there but unfortunately, the BTS was centralising services and the laboratory was due to close in the coming year. About five months into this job I saw an advert for a trainee BMS in histology so I applied and was successful. As my degree wasn't in Biomedical Science I needed to undertake the IBMS Primary Fellowship qualification to be able to become a registered BMS (or MLSO as we were then). I had just missed the intake that year so had to wait until the following September to start the course. Shortly after completing this qualification I completed my laboratory training and became a registered specialist BMS.
4. What was the worst setback you have experienced so far?
More recently in my career and after having moved to work in cytology, I trained to undertake the IBMS/RCPath Advanced Specialist Diploma in Cervical Cytology (ASDCC) which is an extremely challenging qualification. It took me three attempts to pass the exam and after failing for a second time, it was very hard to pick myself up and put myself through it again for the third tim. But I was so glad I did.
5. What is the best moment of your career to date?
Passing the ASDCC – this allowed me to become a consultant BMS in cervical cytology.
6. What do you love about your work?
Working in an NHS pathology laboratory for the last nearly 22 years has been so varied and interesting, working through different job grades from MLA, trainee BMS, specialist BMS, senior BMS and training officer through to consultant BMS has given me so many opportunities; I have learned so much about histology and cytology, learned how to develop and improve myself and helped others to do the same.
I've also been lucky enough to take part in two Leonardo funded projects in conjunction with the University of Wolverhampton involving working with European partners and visiting laboratories in Malta, Croatia, The Czech Republic and Hungary. I've made some great friends along the way and all whilst undertaking a job that brings challenges on a daily basis and one that ultimately saves lives, which is a privilege to do.
7. What are the funniest things you have seen in your line of work?
It's too rude to put in print! It involves my laboratory colleagues and a secret Santa gift and that is all I can say….
8. What are your future career plans?
I am currently undertaking training for the new ASD gynaecological histology reporting qualification and hope this will lead to a reporting role in the future.
9. What advice would you give to aspiring female scientists?
If you work hard, make the most of every opportunity and the wealth of knowledge, support and guidance offered by experienced colleagues. You can develop your own skills and qualities and find the right career path for you.
10. Anything else you would like to share?
Work as part of the team in all you do to achieve the best outcomes for patients and for our profession.