Margaret Smith
We asked our female members to tell us what inspired them to work in biomedical science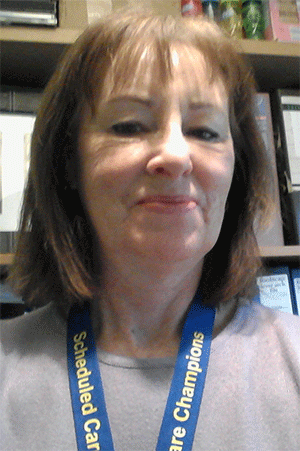 Margaret Smith is band 6 biomedical scientist working in haematology and transfusion in a hospital laboratory in South Wales. Born in Scotland, Margaret has also spent 35 years living in South Africa before returning to the UK.
What inspired you to become a biomedical scientist?
I was born in Scotland quite some time ago. When I was five years old, my family immigrated to South Africa where I spent 35 years of my life. I fell into biomedical science quite by accident. My dream was to become a biology teacher but I found physics and chemistry extremely difficult in my first year at university. A friend had embarked on a career in microbiology and invited me to visit the lab she was working in. The rest, as they say, is history.
How did you get into biomedical science and qualify as a biomedical scientist?
I qualified with a diploma in Medical Laboratory Technology with a special interest in haematology. When I left South Africa in 1999, I was the manager of a small satellite hospital laboratory.
How has being a member of the IBMS helped you?
On arrival in the UK, I found to my dismay that I could not practice my profession as I did not meet the criteria for state registration. As I had a family to support, going back to university was out of the question so I joined an agency and commenced with locum work as a non-state registered MLSO. During one of my placements I had the good fortune to meet Mary Macdonald, who was a council member of the IBMS. Sadly she is no longer with us but there is a bursary in her name which is available to students within the IBMS for the Certificate of Achievement Parts I and II. The IBMS had consequently introduced the completion of the blue book together with an oral exam which would enable me to convert my qualification and achieve registration.
Where are you now working?
I work in haematology and transfusion in a hospital laboratory in South Wales. I'm a band 6 BMS with a special interest in coagulation and more recently, training. Currently, I assist the training officer with assessing PTP students and chasing up lab staff to complete their competencies. I am participating in the Certificate of Expert Practice in Training, one of the many courses run by the IBMS. So far I am finding the information content of the course most enlightening and interesting.
What message would you share to inspire other biomedical students?
I would encourage everyone to take a special interest in what the IBMS has to offer, not everyone wishes to engage in specialist training but it's imperative to keep up with changes within the profession and science itself. There is a wealth of information available about all sorts of things, it certainly made a difference to my career pathway.