Olivia Coffi
We asked our female members to tell us what inspired them to work in biomedical science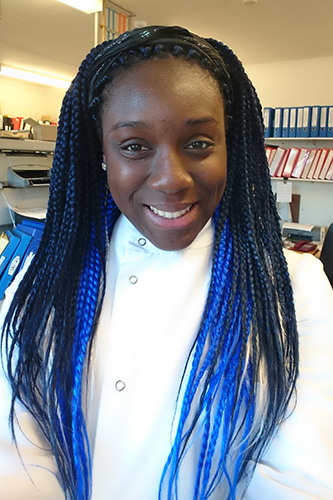 Olivia Coffi graduated in October 2014 with an IBMS accredited BSc (Hons) Biomedical science degree From Anglia Ruskin University, Cambridge, and became an MLA in a private laboratory.
In April 2015 Olivia became a Biochemistry Trainee BMS at The Conquest Hospital East Sussex NHS trust and worked closely with her training officer towards the completion of her HCPC registration portfolio. In May 2016 she became a registered BMS and began participating in her hospital's out-of-hours rota.
What inspired you to become a biomedical scientist?
I became an eStudent member of the IBMS whilst I was at university and since then I have become a qualified biomedical scientist and licentiate member. I have been working in my current role for 2 years and very much enjoy the challenges and rewards of the profession.
As a qualified BMS my responsibilities include sample preparation, analyser maintenance for the automated sample analysis and results validation. As well as maintaining competencies and auditing standard operating procedures within the department, to identify ways to better improve the quality of the patient service.
How has being a member of the IBMS helped you?
Being a member of the IBMS has allowed me to keep a record of my CPD in addition to, provide me with activities and articles I may not have been exposed to otherwise through the online journals, monthly magazines and other resources. As competition for BMS jobs is high, having an edge such as CPD is not only beneficial professionally and shows initiative, but also personally, as I feel that I am constantly learning and being exposed to the ever-changing field of science from method updates to recently published research papers in various fields, not just those associated with my department or specialist area.
This has helped me realise how much I have learnt since completing my degree and to consolidate what I had learnt from textbooks into perspective through real scenarios. My BMS degree gave me the foundation I needed to start off in my career but my job has given me a basis to apply my knowledge and learn from my mistakes.
I have recently started working towards my first IBMS CPD diploma and do enjoy the Journal Based Learning activities and the events posted for seminars which, will help me to take the next steps in my career and give me a deeper understanding of the overall role I play in patient care and how I could contribute to the promotion of the profession beyond the laboratory. I do believe that the IBMS is dedicated to facilitating the career progression of all BMS' both within NHS labs and in the Private sectors and has access to a wide range of resources.
What are your future plans?
In the future, I hope to specialise in electrophoresis and free light chain analysis of myelomas as I have taken a particular shine to this specialist area of biochemistry and the more manual methods and skill base needed. I'd like to continue my professional development and hope to achieve my first CPD diploma and hope to go on to complete a specialist diploma in biochemistry.
What message would you share about your experience to inspire other biomedical students?
I am currently a full time qualified BMS at The Conquest Hospital and I enjoy working within my department, especially with the recent introduction of new analysers. My experience so far has been amazing and I feel as though every person I have come across during my journey has helped me in one way or another; in developing my skills as a BMS and my confidence to know that I am capable of being a BMS.
If I had to do my journey all over again, my message to my younger self would be to listen more to the older people in the profession as they have seen the profession change throughout the years and are willing to share their knowledge and interesting experiences they have had which could benefit my learning journey.