Track 1: At the start of your biomedical science journey


What is biomedical science?
Biomedical science degrees focus on human biology and disease. Students build scientific knowledge and learn how to investigate, diagnose, monitor and treat different human diseases, alongside developing practical laboratory skills.
What do biomedical scientists do?
Working in healthcare laboratories, biomedical scientists conduct over 1 billion diagnostic tests in the UK each year. Their results provide the basis of over 75% of diagnoses in the NHS.
What do you study on a biomedical science degree?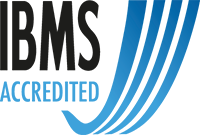 IBMS Accredited biomedical science degree courses include all the key clinical laboratory specialities: medical microbiology (including virology), clinical biochemistry, haematology and transfusion science, clinical immunology, cellular pathology / histopathology and clinical genetics.
Where can I study a biomedical science degree?
In the UK, there are 56 universities that currently have IBMS Accredited biomedical science BSc degrees. Studying an IBMS Accredited BSc biomedical science degree with a placement in a healthcare laboratory offers the quickest route to register and work as a biomedical scientist.
What qualifications will help me to apply for an IBMS Accredited biomedical science degree course?
For most IBMS Accredited biomedical science degrees in the UK, applicants will need grade 4 or above in GCSE English, maths and double award science. Most IBMS Accredited biomedical science degree courses do not ask for triple award GCSE science.

For A levels, the minimum requirements are likely to be grade B in biology and at least C in chemistry plus another subject. It is important that applicants check the admissions criteria for their chosen IBMS Accredited biomedical science course, as some require A level chemistry and some do not and the UCAS points required may differ.

For Scottish Highers, the standard entry requirement is BBBB in two science subjects (such as biology/human biology, chemistry, health and food technology, physics, maths, psychology) and one essay-based subject such as English, history or modern studies plus National 5 biology or human biology, maths, English and chemistry at B.

Some IBMS Accredited biomedical science degree courses also accept BTEC qualifications for admission. However, the level 3 BTEC Extended Diploma in Applied Science is the only programme which adequately covers the required depth and breadth in the relevant subject areas within one award title.

In addition to the mandatory BTEC units, any three units from option block A are appropriate (particularly unit 20 – biomedical science). From option block B, good unit choices are units 14 (applications of organic chemistry) and 19 (practical chemical analysis), and, from option block C, unit 13 (applications of inorganic chemistry).
Why choose IBMS Accredited?
If you want to become a biomedical scientist, IBMS Accredited degrees are the quickest way to get HCPC registration and join the profession.

IBMS Accredited degrees support you to study the required academic content to meet the HCPC's Standards of Education and Training and register as a biomedical scientist.
Through a combination of academic qualifications and clinical laboratory training, you will receive a wide-ranging, research informed scientific education and develop practical skills and experience that employers require.
Some full-time courses have an integrated placement in a clinical pathology laboratory which will enable you to apply academic theory from your degree and develop your professional skills. A placement/period of training in an IBMS approved training laboratory where the IBMS Registration Training Portfolio is undertaken and successfully verified (either during the degree or post-graduation) provides the quickest route to registration after graduation.
Part-time courses are also available, allowing you to combine your studies with other commitments. If you are employed by the NHS already, a degree apprenticeship course allows you to work as a trainee or medical laboratory assistant in a hospital laboratory some days per week with 20% of your time studying at university.
Types of undergraduate degree courses available
There are four types of IBMS Accredited undergraduate degree courses in biomedical science:
BSc Degree
You can choose to study a three-year IBMS Accredited degree programme without a placement but will need to then secure a clinical laboratory role after graduation if you later wish to register as a biomedical scientist. This could be as a medical laboratory assistant or trainee biomedical scientist and you will have to wait for the opportunity to undertake the IBMS Registration Training Portfolio alongside your normal role.
Sandwich BSc degree
If you choose an IBMS Accredited Sandwich placement degree programme, you will have the opportunity to undertake a laboratory placement during your degree. The placements offered may be in a clinical pathology laboratory or an industry laboratory and may not include the opportunity to complete an IBMS Registration Training Portfolio.
Integrated BSc degree
If you choose an IBMS Accredited degree with an integrated placement, you will be able to complete an IBMS Registration Training Portfolio during your clinical laboratory placement as part of the programme. The programmes are usually called "BSc Applied Biomedical Science" or "BSc Healthcare Science".
On successfully completing your degree and the IBMS Registration Training Portfolio, you will be awarded the IBMS Certificate of Competence and be eligible to apply for HCPC registration as a biomedical scientist.
Apprenticeship degree
IBMS Accredited apprenticeship degrees provide the means to train colleagues already in employment by developing their skills through education and training to become biomedical scientists. Importantly, apprentices work and study at the same time (IE: earn while they learn).
The Level 6 Healthcare Science Practitioner apprenticeship standard was approved in 2017 and mirrors an integrated IBMS accredited biomedical science degree programme in academic content and the integration of the IBMS Registration Training Portfolio completion.