Public engagement
Inspire and raise awareness of the importance of biomedical science
Public engagement is a rewarding way for our members to inspire the next generation of biomedical scientists and to promote the profession to the public.
Over the years our members have taken part in activities ranging from inspiring students about careers in biomedical science to an attempt to break a world record.
Getting involved in public engagement activities will develop your teamwork organisational, communication, problem-solving and leadership skills.
Read more
10 ways to make public engagement work for you


---
Resources for public engagement activities
We produce a range of resources to support our members' public engagement activities:
Careers leaflets
Careers in Biomedical Science aimed at year 10-13 students
The Science at the Heart of Healthcare aimed at year 11 through to university students
Choosing the Right Degree for your Career aimed at students considering a biomedical science degree course for their career


Posters & Banners
We can send posters (featured below) and also have eye-catching banner stands that we can send to events across the UK.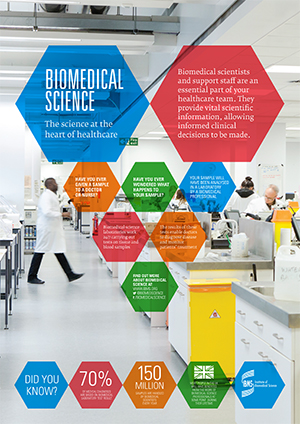 Presentation
Download and use our PowerPoint presentation - What is a Biomedical Scientist?
Promotional items
We also have a limited range of IBMS promotional items, including:
pin badges
fridge magnets
pens
pencils
notepads
fuzzy bugs
bottle openers
stress balls
---
How to order IBMS public engagement resources - IBMS members only
If you are an IBMS member and would like to order careers leaflets and promotional items for public engagement or careers promotion events that you are attending please contact: pe@ibms.org.
Due to high demand, we can only support requests with a minimum of 5 working days notice.


Please note
We are unable to support requests for promotional items from non-members. We are happy for non-members to download and print the leaflets, poster and presentation on this page, however, all material (images and text) is owned by the IBMS and should not be altered in any way. You must also credit the IBMS if you re-use any of the content contained in this materials.
---
Get involved!
If you are interested in getting involved with public engagement activities in your local area please:
select My Preferences
under Engagement tick Public Engagement
You will be able to join our Public Engagement Group and receive updates on public engagement opportunities in your local area.