Biomedical Science Day 2021

COME TOGETHER

After one of the most challenging years in our professional history, we're looking forward to celebrating Biomedical Science Day 2021
With easing of lockdown restrictions from each of the four nations still on track, we are hopeful that some face-to-face activities will be able to take place on this year's Biomedical Science Day. This year the event is being held on Thursday 24 June and will be focused on showcasing the integral work the profession has taken on during the pandemic and promote to the public how biomedical science is vital to healthcare.

Face to face activities
With the UK still hoped to leave final lockdown restrictions on Monday 21 June, we advise members to err on the side of caution and continue to take necessary precautions while abiding by local guidelines. Carry on with "hands, face, space", and try to hold events in well ventilated areas or outdoors, if possible.

If restrictions permit, organising a Harvey's Gang tour is a great way to celebrate Biomedical Science Day, as it helps young patients and their families understand their healthcare and the people involved. Or you could choose to raise funds for the charity through your activities. For more details, email harveysgang@gmail.com.
Celebrating online
As always, we'll be celebrating on social media all day long. Follow the IBMS's accounts on Twitter and Instagram (@IBMScience) or on Facebook (/BiomedicalScience) and share your photos and videos of how you've been celebrating the day with us and the community! Tag us and use the hashtags #BiomedicalScienceDay2021 and #AtTheHeartofHealthcare in your posts.

If we are still limited in what we can do in public and the workplace, the potential reach is limitless on social media – and what we do and how we do it can be more creative. Social media can also have many beneficial uses for teaching, CPD and communication.
Activity Fund
If you plan on running activities, consider applying for the Biomedical Science Day Activity Fund. The fund will provide up to £500 for IBMS members to develop their biomedical science-related activities and events. Activities should aim to raise public awareness of biomedical science and demonstrate the value of the profession. The grants may be used to support a wide range of activities and resources, including: experiments, exhibition space at careers events, marketing and communications materials, incentives and giveaways. We recognise that not all members are able to participate on the day and therefore grants may be used for activities up to 30 September 2021. The application deadline is 14 June.

Ask your local politicians
Writing to your local Minister of Parliament (MP), Welsh Assembly Member (WAM) or Member of Scottish Parliament (MSP) will help to inform them about biomedical science and the vital role it has at the heart of healthcare. For a step-by-step guide to contacting your politician, visit our website where you can also find a template email. In 2020, lots of politicians posted on social media to celebrate Biomedical Science Day, including Arlene Foster, the outgoing First Minister of Northern Ireland and Lord Bethell, health minister responsible for COVID-19 testing.
In the Scottish Parliament, a motion was submitted by MSP Gil Paterson and supported by 20 other MSPs for Parliament to recognise Biomedical Science Day and the key role of biomedical scientists and laboratory staff play in delivering high-quality pathology services.
Resources and freebies
If you want some help to present to children, we have some free children's activity sheets and Superlab comics available to download from our website. You can also find lots of informational videos and animations to use on our YouTube channel.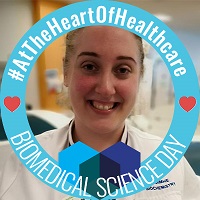 Twibbon
Support our campaign and help raise awareness of Biomedical Science Day by customising your profile picture on Facebook and Twitter by
adding our "Twibbon"
.
Communications
Inform your hospital or trust communications teams about Biomedical Science Day and any of your plans. They can help you attract media coverage and promote the event in your hospital. You can also talk to them about taking over their social media accounts on Biomedical Science Day to promote your work and events and together you might be able to think of ways to reach a wider audience. We are also happy to collaborate with communications teams if they want to talk to us – communications@ibms.org.

It's also worth remembering that our members can wear their "IBMS hats" in any public relations where they promote the profession and don't have to be speaking on behalf of their hospital. Shout-outs on radio are also a great way to promote the profession. We encourage members to call, text and email local and national radio and TV shows about Biomedical Science Day. In 2020, biomedical scientists received shout-outs throughout the day on BBC Radio 2, and others – for example, BBC Radio Manchester had IBMS member Helen George on to describe her vital role in healthcare and to bring awareness to the day.
Take part in our photo competitions
The Biomedical Science Day photo competitions have become a popular tradition, with last year's contests receiving hundreds of entries! Participating also helps raise awareness of the profession. With some excellent prizes and awards on offer, use the hashtag #BiomedicalScienceDay2021 or #AtTheHeartOfHealthcare to send in your photos on social media or email them to us at communications@ibms.org. This year's competitions will be announced on our website. Need inspiration? Visit our Facebook galleries to see previous years' entries!