Biomedical Science Day 2022
Get ready for Biomedical Science Day 2022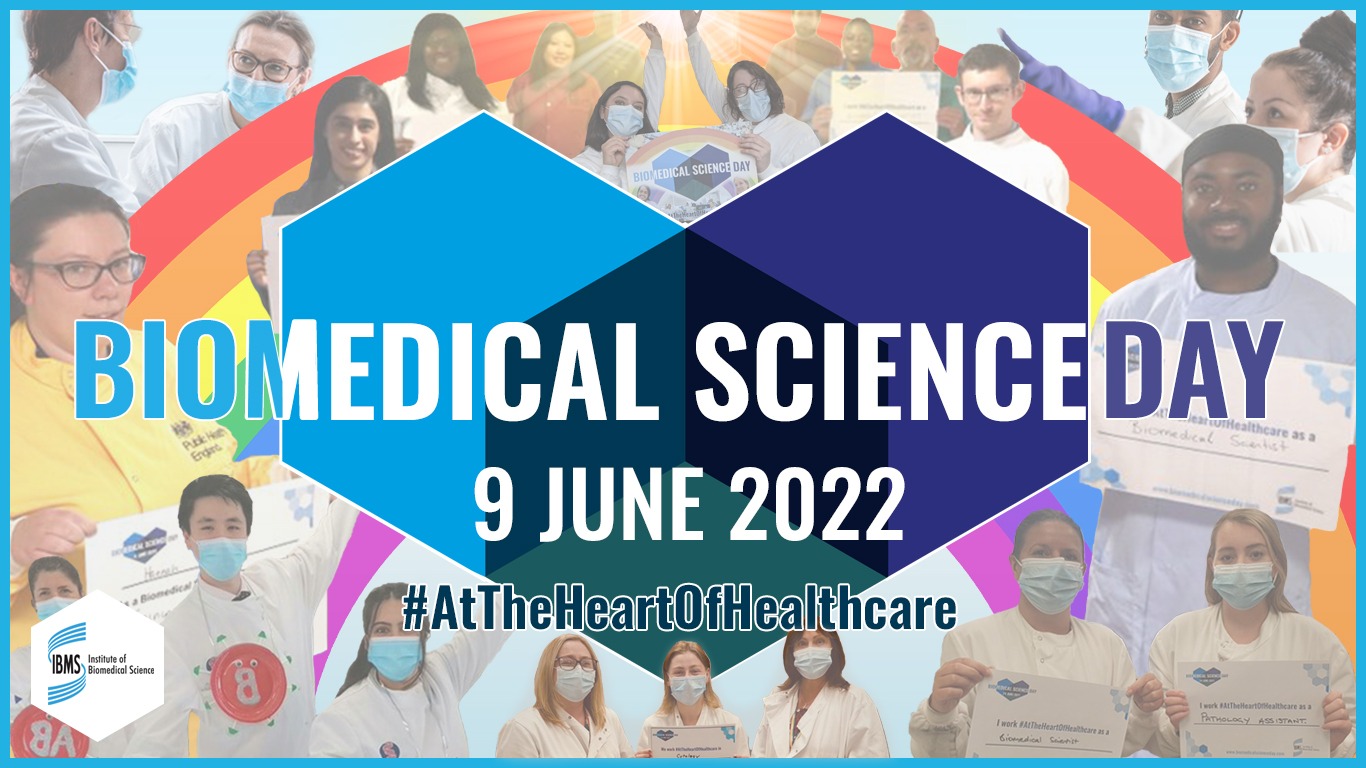 Mark your calendars and get ready to celebrate the 6th annual Biomedical Science Day
The best and most fun way to promote biomedical science is to hold an event at your workplace with your colleagues.
Order your event pack
We're pleased to announce our popular event packs are back for you to order to support your events. Limited to just 300, members can order theirs on a first come, first served basis. To get yours, please complete our online form before 23rd May 2022 on our website.
You will also find digital resources to help support your event for the day – including activities for children for you to download and print and sample journey videos.
Share the message
Show your support by taking part in our #BiomedicalScienceDay2022 campaigns on social media and help us spread the message about your vital work #AtTheHeartOfHealthcare.
Once again, we have photo competitions and challenges for you to share images of your work and colleagues celebrating the day. Competitions and prizes will be announced later this month on our website and in newsletters to members.
Engage with your local politicians
Last year's Biomedical Science Day had the most shared political support yet, as parliamentarians and council members from across the UK took part in our online celebrations. This year we want to increase our coverage, and with restrictions now lifted you may consider opening your doors to invite them to attend your events in person.
Use our online tools and messaging to help you identify and reach your local politician and throw more light onto the vital work of biomedical science at the heart of healthcare.
Inspire the next generation
To help you promote biomedical science to a younger audience and get children to think about their healthcare, we have produced a range of resources.
Our Superlab comics are aimed at 7- to 11-year-olds and contain lots of fun activities to explain about the laboratory heroes who help doctors diagnose illnesses. Copies are available for members to order or download from our website. Why not take some into your local primary school or children's ward and use them to explain your work.
We also have a range of activity sheets which are fun experiments for children to learn and be enthused about biomedical science. Each activity is available as an A4 PDF document to download and print and contains a shopping list for resources needed and instructions in how to perform them.
We can't wait to see our amazing members promoting their profession and their expertise
Following on from the success of our campaign to raise awareness with politicians, we ask you to once again use our messaging to contact your local politicians to invite them to take part and mark the day. You may also consider inviting them to come to your workplace and show them the vital work that takes place #AtTheHeartOfHealthcare.
Our competition categories have been announced, giving you the opportunity to use your celebrations to take part and showcase your workplace.