Resources

Request our Biomedical Science Day pack to promote biomedical science
Members can order our Biomedical Science Day event packs which include posters, leaflets, placards, fluffy bugs, stickers and badges. To order, please complete our online application form.
We are also excited to have launched our Superlab activity magazine for children aged 7–11 - helping them to learn that scientists work in hospitals and are a big part of healthcare services. For Biomedical Science Day, you'll receive some with your box of promotional materials so that you can give them out to any children who come to your stands or on your laboratory tours.
To ensure we can complete all orders in time, requests for Biomedical Science Day Event Packs must be received by Thursday, 6th June. Event packs for Biomedical Science Day events, held on Thursday 20th June, will be posted by Tuesday 11th June.
In providing the IBMS with the information requested you are consenting to its use as indicated in the IBMS Privacy Notice.
Further information can be found on the IBMS Privacy Notices webpage
---
Downloads
Use our free to download resources to help you plan and promote your Biomedical Science Day events
Logos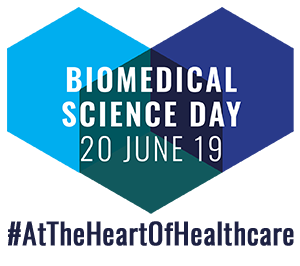 Download our Biomedical Science Day 2019 logo to use in any publications or artwork you create for your event. For other logo file sizes and formats please contact website@ibms.org


---
Presentation
Download and use our What is Biomedical Science? PowerPoint presentation with information about biomedical science, studying it at university and careers.


---
Video
How many times has biomedical science supported your healthcare? YouTube link
A brief introduction into biomedical science and its role in a person's healthcare, our video can be viewed online, downloaded or embedded.


Do you know what happens to your sample? Watch and share our sample journey videos below.

Do you know what happens to your urine sample? YouTube link


Do you know what happens to your tissue sample? YouTube link
Do you you know what happens to your blood sample? YouTube link


A short introductory video for children about how biomedical science is at the heart of everybody's healthcare YouTube link
---
Activities
We've collated activities that our members have created and used to promote biomedical science and enthuse students of all years. They each contain equipment lists you will need as well as information on how to perform each activity.
Biochemistry
Haematology
Haematology
Histology
Microbiology
Microscopes
---
Career profiles
For a range of information and resources that explain what biomedical science is and its different laboratory disciplines, visit our dedicated careers website. You'll also find information on accredited biomedical science degree courses and careers. Visit our Careers site: www.ibms.org/careers
---
Documents
Invite letter to MP or local person of prominence