About IBMS
Advancing knowledge and setting standards in biomedical science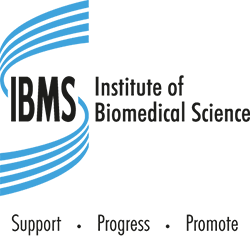 With over 21,000 members in 74 countries, the Institute of Biomedical Science (IBMS) is the leading professional body for scientists, support staff and students in the field of biomedical science.
For over 100 years we have been dedicated to the promotion, development and delivery of excellence in biomedical science within all aspects of healthcare, and to providing the highest standards of service to patients and the public.
Support
We provide members with professional standards and support that helps ensure safety, quality, well-being and peace of mind.
By supporting our members in their practice we set quality standards for the profession through: training, education, assessments, examinations and continuous professional development. We offer research grants to members to advance biomedical science which supports their original research into scientific developments.
Progress
We provide members with simple and seamless access to training, qualifications and knowledge to progress their careers and stay relevant as the profession changes.
Our qualifications, publications and training events ensure our members are kept up to date on the latest scientific developments and news.
Promote
We provide members with a strong, respected and progressive voice to promote the profession at all levels.
Through public relations and marketing campaigns, we raise awareness of the vital role biomedical science plays in healthcare and promote career opportunities in the profession.
---
Our role
We
---
Our profession
Biomedical science is practised in healthcare laboratories to identify, research, monitor and treat diseases. As one of the broadest areas of modern science, it focuses on the complexity of the human body and underpins much of modern medicine.
Biomedical scientists and laboratory staff analyse fluids and tissue samples from patients, identifying diseases and providing reports that highlight the effectiveness of potential treatments. In the UK alone, healthcare laboratories are involved in over 70% of diagnoses in the NHS and handle hundreds of millions of patient samples every year.
To protect public safety, anyone practising as a biomedical scientist must be registered with the Health and Care Professions Council (HCPC) and continue to meet their standards.
---
Our membership
Our membership ranges from students to diagnostics companies and national institutes and includes practitioners working at all levels in biomedical science.
The majority of our members work in healthcare, with many also based in university and veterinary laboratories, government agencies and services. Our members also work in the commercial sector and academia.
Join our international community of scientists, students and organisations to enjoy tailored support at every stage of your career.
---
Our structure
We are a professional body that is run by our members for our members through IBMS Council and Standing Committees.
Read about our Council and Committee structure and find out how you can get involved.
---
Our history
The IBMS began life as the Pathological and Bacteriological Laboratory Assistants' Association (PBLAA) in 1912.
As the complexity of the science which informs modern laboratory medicine has developed so has the IBMS. Our involvement in education, training and standard setting has grown in step with the knowledge and skills required of those working in biomedical science.
Find out more about our history and the history of biomedical science.