Biomedical Science Day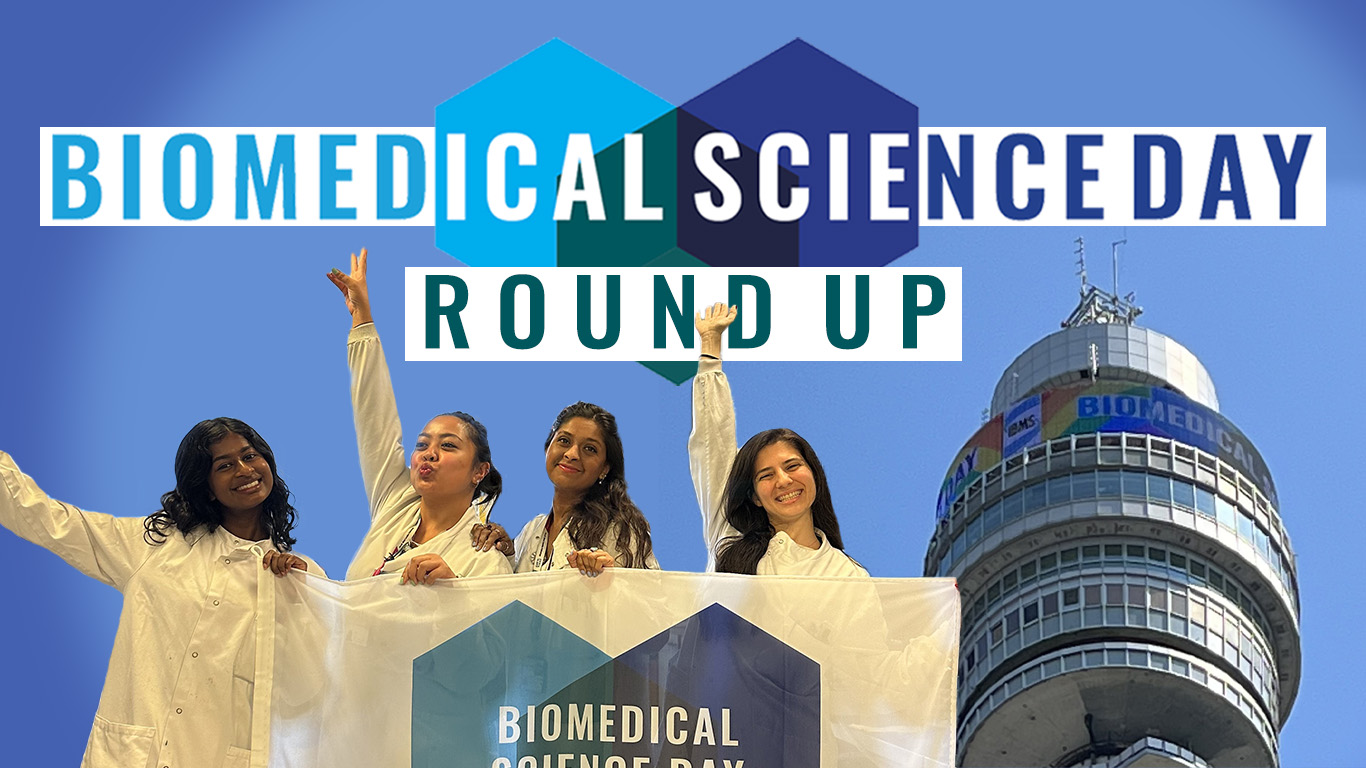 On 8th June we came together with the profession to celebrate the world's largest biomedical science awareness campaign - our very own Biomedical Science Day. The day was a huge success - with engagement and awareness reaching deep into Parliament and as high as the top of London's BT tower!

The hashtags #BiomedicalScienceDay2023 and #AtTheHeartOfHealthcare got over 20,000 mentions on Twitter, with over 100,000 engagements, and they were seen by an estimated 2 million people in the UK alone. #BiomedicalScienceDay2023 was trending in the top 10 in the UK throughout the day and peaked at number 6 at lunchtime.

The hashtags were also used in over 1000 Facebook posts, 500 LinkedIn posts and 250 posts on Instagram.

Throughout the day, we updated followers on what was happening through our live blog - with posts from members and events across the UK.


Events and activities photo gallery

Our Biomedical Science Day Activity Fund supported 40 members with over £15,000 to use for events promoting biomedical science and we received lots of news and pictures from our members at the 300 events that we sent our event packs out to.

Across the UK, communications teams in hospitals and university laboratories handed their social media accounts over to their biomedical science laboratory staff and allowed them to celebrate and inform their followers about the skills and expertise involved in their practice.

You can see a large collection of the photos that IBMS members shared in our Facebook photo gallery.


Announcing our #AtTheHeartOfHealthcare Competition winners

As part of our bid to raise awareness of the vital role of biomedical science in healthcare, we ran our annual #AtTheHeartOfHealthcare competitions - encouraging biomedical science staff across the country to celebrate and showcase their workplaces, colleagues, expertise and team spirit to the public.

As always competition was high and we had over 600 entries from our members.

Without further ado, our winners for 2023 were:
Best biomedical bake (best cake)
Priyani Hippola's cake from the Microbiology Department Cancer and Clinical Support Division Barking, Havering and Redbridge University Hospitals NHS Trust.


Best group photo with placard(s)

The specialist chemistry team at North West London Pathology. Does that say 15.3 MILLION SAMPLES A YEAR!?




Best group workplace photo
The Norfolk and Norwich Hospital's histopathology team dressed up as our Superlab comic book characters to get into the spirit of the day. Submitted by Laura Wright.



Best individual photo with placard
Kwasi Oware-Boateng from the virology laboratory in the Manchester Medical Microbiology Partnership at @LabMedicineMFT



Best individual workplace photo


Biomedical Scientist Team Manager at Infection and Molecular Sciences Claire Daws submitted some great pictures of her team over there in Jersey but we thought this one captured the spirit of the day.

Best artistic biomedical science photo
Senior Biomedical Scientist and Chair of Lothian and Borders IBMS Branch Tiffany Pietrek submitted this artistic photo - and nothing says biomedical scientist like wearing a Biomedical Science Day cape and staring off meaningfully into a storm (of work)!


Best biomedical science 'under the microscope' photo
Bindu Jawaharlal submitted this 'under the microscope' photo of a breast tissue after P63 IHC staining 2 - taken at Princess Royal Hospital Orpington (but he now works at Royal Marsden Hospital Sutton). IT'S A KITTY!



Best biomedical science meme
Who can resist a baby Yoda meme? Not us. Cellular Pathology Training and Quality Manager Gillian Leitch reflects on the fate of her trainees in this one!


Best biomedical science video
The force is also with IBMS Associate Sonia Jivan's submission from HCA Hospitals UK!



Best Biomedical Science Day artwork


Consultant Biomedical and Clinical Scientist in Gastrointestinal Histopathology Sarah Gibson submitted this one (new logo anyone?).

L to R: Blood vessel (mesentery), Barrett's metaplasia (oesophagus), sessile serrated lesion (colon), reactive gastropathy (stomach).





HONOURABLE MENTION:

We would like to personally thank Head of Biochemistry at UCLH Rapid Response Laboratory Chris Wilson - who worked hard to get our IBMS banner design up onto the BT Tower for the day. It was truly a special detail, with millions of people able to see that it was the profession's day to celebrate! THANK YOU CHRIS!