Eric Martindale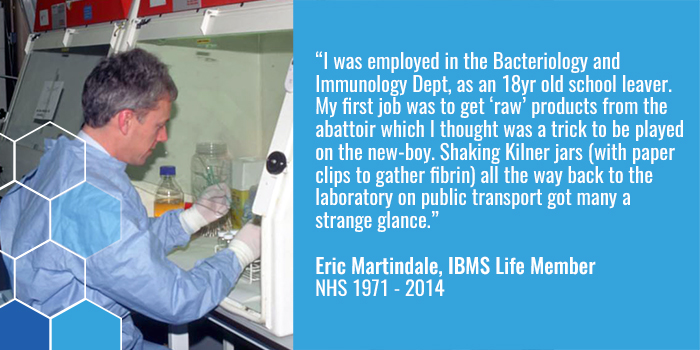 Eric began working in the NHS in 1971. Here is his story.
Raw products in the lab
I was employed in the bacteriology and immunology department at Western Infirmary as an 18yr old school leaver with 5 Highers, at that time 3 O grades were required.
My first job was to get 'raw' products from the abattoir which I thought was a trick to be played on the new-boy. Shaking Kilner jars (with paper clips to gather fibrin) all the way back to the laboratory on public transport got many a strange glance.
All media was made from first principles, and I'm not talking powder. We even boiled raw sea-weed for agar. Free range eggs for LJs, ox hearts for Robertson Cooked Meat Medium etc.
All stains were also made from powder/phenol; concentrated carbol fuchsin, crystal violet etc. I witnessed the switch over from glass petri dishes to plastic. There was even a spell where recycling used agar was attempted.
TB work was all done on the open bench and it was little wonder Mantoux testing of staff frequently resulted in chest X -rays being ordered.
Many sterilisation methods were involved. Inspissation, tyndallisation, Seitz filtration, hot air oven as well as steam under pressure (autoclave).
More of an art than a science
Training involved day-release and night school. In addition, we spent 3 months in each discipline for a basic understanding of biomedical science. At night school we would harvest virus from egg cultures. A real skill was cutting into the shell with a carborundum disc.
Another skill was performing a Cellophane Transfer (Chabbert) to detect synergy or antagonism between two antibiotics. Many of these skills were deemed "more of an art than a science".
The obvious difference over time has been the steady increase in demand and hence the introduction of automation. Blood culture closed systems followed by antibiotic assays (by EIA) replacing bio-assays each reducing time significantly.
Identification by Cowan & Steele with basic biochemistry; catalase, oxidase, sugars, Hugh & Liefson Oxidative / Fermentative tests and IMVIC reactions were replaced by API and more recently by Maldi-Tof. Time to identification (after isolation) is minutes instead of days.
Even sample processing / streaking-out is being replaced with Kiestra and WASP track systems. However, the advent of rapidly developing molecular platforms is now even replacing culture. Bacteriology has indeed jumped from 19th to the 21st century.
Refereeing and the NHS
I initially wanted to be a footballer when I left school and lab work was just "to do me in the meantime". When not quite making it as a footballer I turned to refereeing and gained top grade qualifications officiating at all senior grounds in Scotland and many abroad including Real Madrid.
The NHS had no arrangement to allow time for this and I was required to keep annual leave for important 'away' games. I managed to allow both roles to run parallel…43yrs in Microbiology and 25yrs refereeing. Don't start me on changes in football!
A retired assessor
The 1990s saw the accent being put on "quality systems" with CPA, now transitioned to ISO 15189 accreditation and as a retired peer assessor, I'm now a self-employed Technical Assessor for UKAS.
I said retired but after assessing 45 laboratories (some more than once) it feels like full-time employment yet again. A life member with IBMS and HCPC registered I have just received my 16th IBMS CPD diploma. I continue to lecture at Glasgow Caledonian University (MSc course) and am a STEM ambassador. Don't you just love science?
Frederick Martindale CSCi FIBMS CQP MCQI