IBMS members win at 2019 AHAwards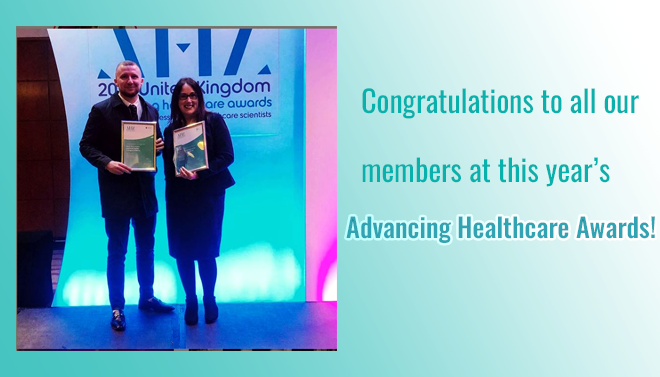 12 April 2019
IBMS Fellow Jo Horne, Danny Gaskin, Chloe Lockwood, Mary Hannon-Fletcher, Claire Cameron, Sarah Smith and Lynne Taylor win at this year's Advancing Healthcare Awards
The Advancing Healthcare Awards (AHAwards) annually recognise and reward the accomplishments of healthcare scientists, allied health professionals and the staff members who work alongside them in support roles.
Organised by Chamberlain Dunn, these fourteen awards recognise outstanding members of the profession across different disciplines, ranging from inspiring future workforces to rising stars.
Now for the second year in a row, the IBMS has sponsored an AHAward. For 2019 the IBMS sponsored the Biomedical Scientist of the Year award, which celebrates an exceptional biomedical scientist who has used his or her skills and expertise to advance practice in an innovative and impactful way, making a real difference to patients' lives and inspiring those around them.
Many IBMS members were shortlisted for these awards, including:
The College of Podiatry Rising Stars award
Danny Gaskin, Milton Keynes University Hospital (winner)
Chloe Lockwood, St James University Hospital (winner)
The Biomedical Scientist of the Year award
Sarah Brownsteen, Gloucestershire Hospitals NHS Foundation Trust
Jo Horne, Southampton General Hospital (winner)
Shauna McAuley, Royal Victoria Hospital
The AHCS award for Inspiring the healthcare science workforce of the future
Bamidele Farinre, Great Ormond Street Hospital
Special recognition award
Dr Mary Hannon-Fletcher, Ulster University
The Scottish Government award for driving improvement, delivering results
Claire Cameron, Royal Infirmary of Edinburgh (winner)
Sarah Smith, Royal Hospital for Sick Children (Edinburgh) (winner)
Lynne Taylor, Royal Infirmary of Edinburgh (winner)
Danny commented,
"It was both an honour and a privilege to have been invited to share the stage with so many inspirational professionals from many different disciplines in health care. It's fantastic that healthcare scientists, and in particular biomedical scientists, are getting increasingly more recognition and appreciation for our contribution to healthcare. Thanks to the organisers for a brilliant day."
Chloe added,
''The AHAwards was a great day celebrating the hard work that AHPs and Healthcare Scientists do to improve healthcare for patients. I was honoured to be nominated, and to win the award was really special. It was fantastic to see Biomedical Science being represented by some really amazing people!''
Jo said,
"I was thrilled to be nominated and shortlisted for the Biomedical Scientist of the Year award, alongside other fantastic biomedical scientists from around the UK. Receiving this recognition from my peers was incredible enough, but to then go on and win the award was one of the proudest moments of my professional life.
I am now fortunate enough to be in a position where I can help to develop, support and promote advanced careers for biomedical scientists, and I see a bright future ahead, as we continue to develop advanced and extended practice roles and raise our profile to show that we truly are at the heart of healthcare! To be recognised by my peers is amazing, and I only hope that I can inspire others working in biomedical science to set the bar high, achieve their own goals and then encourage others to do the same."
Mary said,
"Receiving this recognition for my work over the years championing biomedical science both clinically and as an academic, educating and training biomedical scientists ensuring they are leaders in the future of healthcare, means so much to me as it is awarded by my peers.
The event was so encouraging seeing so many dedicated colleagues going above and beyond for their clients and then receiving recognition for their work was heart-warming."
Sarah commented on behalf of the team:
"We were delighted to be shortlisted for the Scottish Government's Award for Driving Improvement, Delivering Results but to then go on to win was wonderful recognition for everyone involved.
We are lucky enough to have a successful partnership with Fife College who have listened and assisted us to develop and deliver a pathway for young people to start their healthcare science career whilst at school and to develop our existing staff to ensure we have a robust and sustainable workforce for the future.
This collaboration has gone from strength to strength and we are now using this model to develop other professional career pathways."
The Awards also received attention on Twitter.
The Advancing Healthcare Awards tweeted:
The @IBMScience Biomedical Scientist of the Year is … Jo Horne @UHSFT @hornej13 – A trailblazer in her field - many congratulations Jo! @ibmsceo @UHS_HCS #HealthcareScience @WeHCScientists #AHAwards

— AHAwards (@AHAwards) April 12, 2019
A special recognition in @IBMScience Biomedical Scientist category goes to Mary Hannon Fletcher @UlsterUni – a 40 year career championing & raising the profile of biomed scientists – congratulations Mary! @MaryPHF @ibmsceo @WeHCScientists #AHAwards

— AHAwards (@AHAwards) April 12, 2019
IBMS CEO Jill Rodney tweeted:
Well done to @IBMScience members Sarah Smith Lynne Taylor Claire Cameron in winning the Scottish Gov award Driving improvement dellivring results @AHAwards

— IBMS CEO (@ibmsceo) April 12, 2019
Jo Horne tweeted:
Yikes! What amazing recognition. I'm gobsmacked (and still a bit teary!). Thank you so much, what an honour #AHAwards https://t.co/L12D3AFymn

— Jo Horne (@hornej13) April 12, 2019
Cherie Beckett tweeted:
Yes, yes, yes, yes, yes!!!!! A million times yes! Jo, you are changing the face of healthcare & biomedical science! A real honour to know you & work alongside you with @IBMScience. We can learn so much from you! What an inspiration! Enjoy your day & soak up the atmosphere! https://t.co/2sFxqAmv31

— Cherie Beckett (@CDBeckett) April 12, 2019
To see more photos and updates from the day, follow the Advancing Healthcare Awards online or follow the hashtag #AHAwards on Twitter.
We want to wish all our members congratulations on winning and being shortlisted. This is a wonderful achievement and we wish them every success in their careers.
Back to news listing