Introducing: IBMS Support Hubs for 2023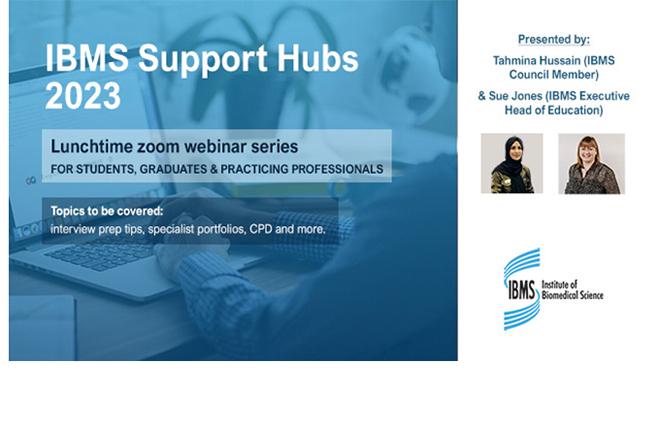 10 January 2023
We are pleased to announce a new series of IBMS Support Hub zoom webinar sessions, with our first scheduled session taking place later this month.
Following on from her article in The Biomedical Scientist magazine on 'Assessing Employability Skills', IBMS Council member, Tahmina Hussain, and Sue Jones (IBMS Executive Head of Education) are pleased to announce the return of our IBMS Support Hubs this year.
The Support Hub sessions will take place online via Zoom on Wednesday lunchtimes. For 2023, there will be a new series of topics, specially selected to cover key skills gaps as identified in a recent employability study.
Set up to investigate employers' expectations of pathology lab work, Tahmina's study revealed an overlooked area in need of improvement – the skills and knowledge gap of new graduates. By re-establishing these Support Hub sessions, Tahmina and Sue aim to provide crucial advice to all attendees, with a particular focus on helping new graduates to better meet employers' requirements.
Tahmina comments, " The aim of these sessions is to provide as much support as possible to members, particularly students and graduates, and hopefully bridge some of the gaps that have been highlighted from the Employability skills study."
The first Support Hub is targeted at students specifically, taking place on 25th January from 12-1pm, where the topic of interest will be CV writing, placements, and general advice on job applications.
Following sessions will cover other areas identified in the 'Assessing Employability Skills' study, such as quality management, UKAS, and the role of pathology in patient care. Tahmina has also planned for topics like CPD, STP, specialist portfolios and interview preparation tips to be covered in subsequent webinars.
Sue provides a further note: " Our IBMS Support Hubs provide a regular opportunity for us to engage with our colleagues, apprentices and students to offer useful and targeted guidance and support. We are focussing on employability and relevant technical and transferable skills for this first event in the series."
The Support Hubs will continue to be held over the next few months, and further details will be communicated in future IBMS newsletters and social media posts – stay tuned for more information!
To sign up for the first session on CV writing, please visit this Zoom link >>
Back to news listing