Long Term Biomedical Scientist Workforce Plan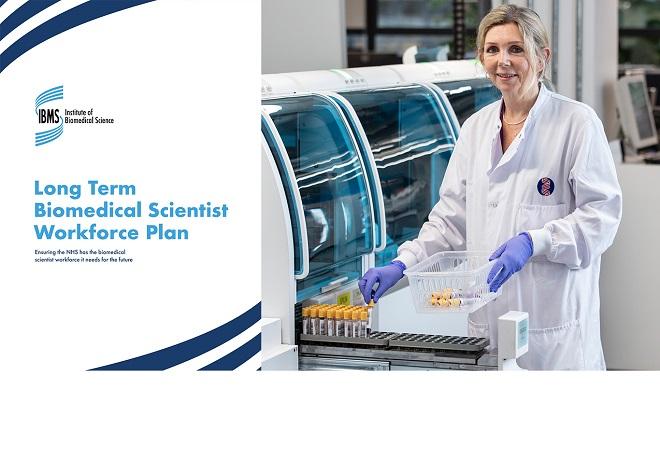 26 September 2023
Ensuring the NHS has the biomedical scientist workforce it needs for the future

The Institute of Biomedical Science (IBMS) Long Term Biomedical Scientist Workforce Plan presents a bold strategy for the UK to develop the biomedical scientist workforce to operate at the highest levels of practice through training, experience and professional qualifications.
After welcoming the publication and the commitments of the NHS England Long Term Workforce Plan, the IBMS committed to ensuring that the biomedical scientist workforce will be featured and a key part of its successful delivery.
Diagnostic laboratory services are undergoing a science and technology-driven innovation revolution that requires its workforce to learn, train and work differently. Combine this with the current need for more diagnostics and we must accept that the requirements of the UK's patients can only be met by a biomedical scientist workforce that is committed to increasing capacity, knowledge and skills.
The IBMS is now outlining how to support and upskill the biomedical scientist workforce in a manner that is safe, efficient and meets nationally recognised standards for the whole of the UK.
The key aims of the Long Term Biomedical Scientist Workforce Plan are to work with the UK governments to:
introduce a registration training grant for departments to train individuals completing their IBMS Registration Training Portfolio.
expand the number of training positions and enable more biomedical science graduates to become registered biomedical scientists and prevent an interruption in the pipeline of talent.
ensure biomedical scientists are recognised as the key health service workforce in pathology and diagnostics, with IBMS qualifications as the primary route to its further development.
enable support and cooperation from NHSE and UK governments to deliver the pledges set out throughout the plan.
IBMS Chief Executive David Wells said:
This essential workforce plan will give the 27,000 biomedical scientists registered in the UK the support and opportunities they need to keep pace with their rapidly changing profession and their patients' growing needs.

The IBMS has shown that it is the organisation with the experience, infrastructure, network and resources required to develop the flexible and adaptable workforce needed to meet the growing and changing requirements of our patients and society.

With our help, the wider capacity of the workforce will be unlocked and with more biomedical scientists we will see faster adoption of cutting-edge technology and increased innovation – making the UK a global leader in diagnostics.
Back to news listing