ABSW Media Fellowship awarded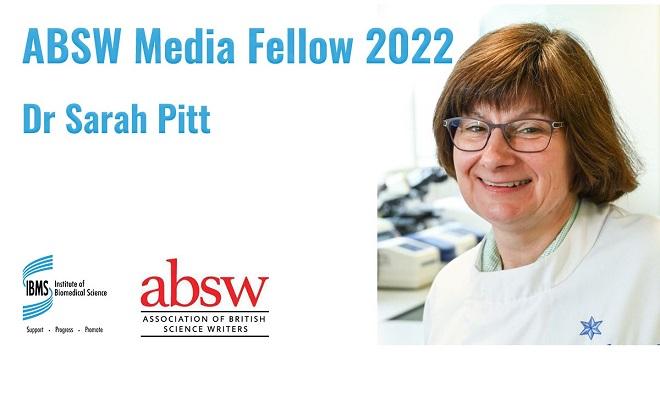 30 May 2022
The IBMS-sponsored ABSW Media Fellowship for 2022 has been awarded to Dr Sarah Pitt FIBMS
We want IBMS members to be in the media - promoting our profession, our standards and our expertise. That's why we sponsor a place on the Association of British Science Writers (ABSW) Media Fellowship scheme for one of our members.

The ABSW Fellowships provides a unique opportunity for practicing scientists, clinicians and engineers to spend two to six weeks working at the heart of a media outlet such as The Guardian, BBC Breakfast or Sky News. The chosen Fellow gains the chance to work within the media, understand why and how stories are selected and then collaborate with journalists.

Following the selection process, the IBMS-sponsored ABSW Media Fellowship for 2022 has been awarded to Dr Sarah Pitt FIBMS.

She commented:
I am very pleased to have been awarded a place on the Association of British Science Writers Media Fellowship scheme. I have done quite a few media interviews and have contributed to short articles over the last couple of years. I am looking forward to finding out more about what it is like to prepare and produce programmes and understand more about the journalists' perspective on science news stories.
I hope to use the experience to continue to raise the public profile of the Institute of Biomedical Science. Our members bring amazing commitment, dedication and creativity to patient care and scientific developments every day. I would like to find ways to tell our stories about the science that excites us (in my case microbiology!) and who we are as scientists. I would like to thank the IBMS and the ABSW for offering me this great opportunity and my department at the University of Brighton for supporting me to accept it.
Over the course of the pandemic, Dr Sarah Pitt has been a particularly active IBMS member - interviewing in the media on behalf of our members and the public in order to spread fact-checked, professional information. She is the IBMS Chief Examiner for Virology and is involved in setting professional exams, the Specialist portfolio and continuing professional development activities.

Sarah lectures in microbiology at the University of Brighton, with a particular expertise in clinical virology and parasitology, and has published three text books to support students' learning. She has worked in hospital diagnostic laboratories in the UK, Africa and Central Asia and maintains her HCPC registration.

We will keep our members up to date with the work Sarah does while on the Fellowship.

Back to news listing