IBMS members shortlisted for healthcare award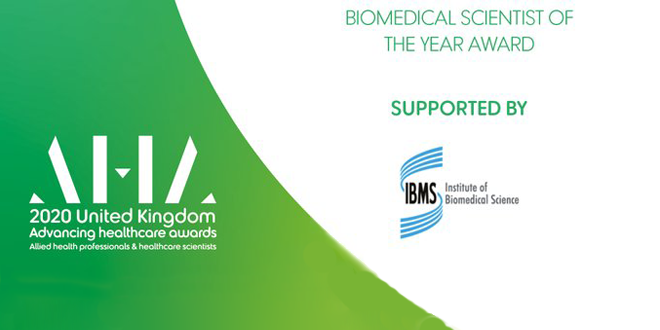 30 January 2020
The Advancing Healthcare Awards (AHA) shortlist for Biomedical Scientist of the Year includes three IBMS Fellows
The IBMS is proud to sponsor the Biomedical Scientist of the Year award, which celebrates an exceptional biomedical scientist who has used his or her skills and expertise to advance practice in an innovative and impactful way, making a real difference to patients' lives and inspiring those around them.
For over fourteen years, the AHAwards recognise and promote the achievements of healthcare professionals and organisations across the UK. Organised by Chamberlain Dunn, these prestigious awards survey hundreds of entries and only shortlist a few.
The shortlisted nominees were selected from a list of 18 nominations.
Congratulations to:
Dr Guy Orchard CSci FIBMS
Dr Alison Watt FIBMS
Dr Sarah Pitt CSci FIBMS
These nominees will meet with a judging panel in February, before attending the AHAwards ceremony in March where the winner will be announced at the annual healthcare award ceremony in London.
Guy said,
"It is a great honour to have been nominated for this award and I am extremely pleased to be informed that I have now been shortlisted. This is an important award both for the successful individual and our profession and I appreciate the confidence my colleagues have shown they have in me in putting my name forward for consideration.
I would like to say thank you to all those who helped in me in my innovation and development work, which has been the reason for my nomination. I have been a career long supporter of biomedical scientists, and am proud to be a part of a profession that is dynamic, dedicated and extremely passionate about their science and the benefits to patient care that they deliver. I hope I am able to represent my colleagues and the Institute of Biomedical Science to full effect."
Alison added,
"I feel very honoured to have been shortlisted for this award and I'm proud to have been a Fellow of the IBMS for nearly 40 years. The research I've just completed could have very beneficial effects throughout biomedical science and elsewhere in healthcare, so I hope this exposure will help to increase the opportunities for disseminating the learning from my work."
Sarah said,
"I was delighted to be nominated in the first place. I'm so pleased to be shortlisted. I hope that I can promote the biomedical science profession, the work my colleagues do and the Institute in the upcoming selection process."
The awards also received attention on Twitter. The AHAwards tweeted:
In case you missed it, the #AHAwards shortlist is out! https://t.co/3z4tSymfqv@DefraNature @DHSSwales @NHSEmployers@ViapathUK @PresidentAHCS @IBMScience @Karenmstew @Carolyncahpo @jennykeanecapho @Junedavis44 @wearechroma @FPH@PHE_uk @GdnHealthcare @INPAlliance @OfficialCAHPR pic.twitter.com/1xeLt5Wel4

— AHAwards (@AHAwards) January 29, 2020
You can read the full shortlist online.
On behalf of the IBMS, we are delighted that three of our members were shortlisted for this award and wish them all good luck!
Back to news listing