#IBMSChat Spaces - catch-up now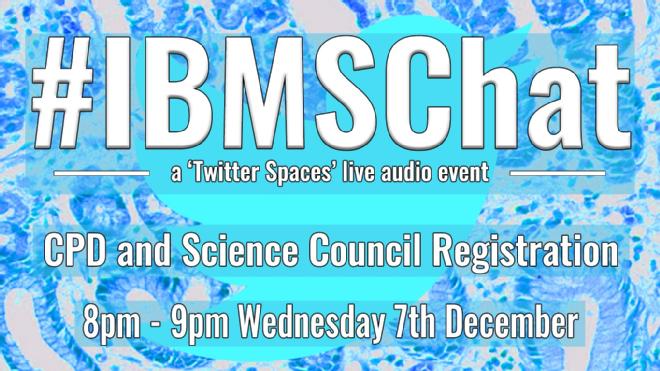 8 December 2022
In our second audio edition of #IBMSChat, experts Sheri Scott, Christian Burt and Ian Davies led an insightful session on the topic of CPD and Registering with the Science Council.
Keeping up with CPD & Registering with the Science Council, Wednesday 7th December 2022, 8-9pm
If you missed December's #IBMSChat, our second live audio edition, held via Twitter's 'Spaces', you can catch-up below.
#IBMSChat https://t.co/oVuba7xMD2

— IBMS #AtTheHeartOfHealthcare (@IBMScience) December 8, 2022
Sheri, Christian, and Ian focus on the importance of keeping up to date with your Continuing Professional Development (CPD) and activities and areas you can focus on to increase your record. They also discuss the value of professional registration with our parent body, the Science Council and explain more about the available registers and application process. With input from Biomedical Scientists across the professional community.
Hosting Panel
Speakers
Text
Ian Davies - Biomedical Science Course Leader and Senior Lecturer at Staffordshire University
Back to news listing