Biomedical Science Day as it happened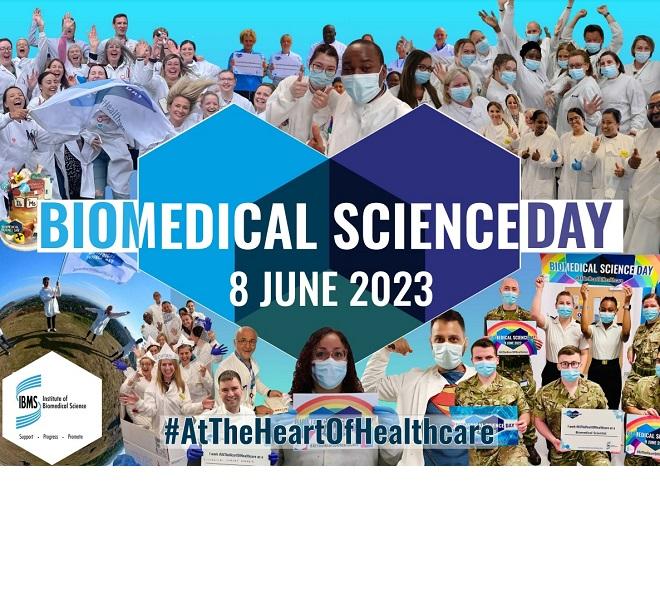 8 June 2023
Biomedical Science Day live: A round-up of all the activities that took place throughout the day
Relive the excitement of Biomedical Science Day 2023 with our live blog from the day -
It's Biomedical Science Day!
Join us throughout the day as we post a live report from events taking place to celebrate the world's largest biomedical science awareness campaign.
You can now view all the photos for Biomedical Science Day in our Facebook gallery here>>


19:00pm - IBMS wraps up the day - thanking everyone for taking part and linking to the big gallery of images
THANK YOU to everybody #AtTheHeartOfHealthcare who promoted their vital work for #BiomedicalScienceDay2023. We're so lucky to represent such an amazing profession. Catch up with all the snaps and competition entries via our gallery here: https://t.co/K9XsQ8TYPX pic.twitter.com/b6qSjhhifZ

— IBMS #AtTheHeartOfHealthcare (@IBMScience) June 8, 2023

18:01pm histopathology @NNUH dress up as characters from our Superlab comic
Our Histopathology team is celebrating #BiomedicalScienceDay2023 in style and highlighting the department and the vital work they do for service delivery.

Here's their take on the Super Labs Comic, that promotes Biomedical Science to young children."#attheheartofhealthcare. pic.twitter.com/cpRErWTdMo

— Norfolk and Norwich University Hospitals (@NNUH) June 8, 2023

17.17pm - Great Ormond Street band together to promote #IBMSPride
Happy Biomedical Science Day!!! From my amazing team! Be sure to celebrate well all! @GreatOrmondSt @IBMScience #AtTheHeartOfHealthcare #BiomedicalScienceDay2023 #IBMSPride pic.twitter.com/V7dFVeG62d

— Francis Yongblah (@TheHealthcareS1) June 8, 2023


16:32pm - IBMS President Debra Padgett gives a quick update on the House of Lords meeting


June 8th#BiomedicalScienceDay2023
Just a little update…. pic.twitter.com/5U1XrVE1y7

— IBMS President (@Debra54597120) June 8, 2023
15.55 -Andrea Johnson with a great idea for engaging with people
@IBMScience we have had such a blast for #biomedicalscienceday2023 we had two competitions for guessing the number of pipettes and tubes in a jar - a fabulous talking point and getting people involved #BiomedicalScienceDay2023 #heartofhealthcare pic.twitter.com/rSUkVXv3tB

— Andrea Johnson (@AndreaJ03171671) June 8, 2023
15.30 - More from the House of Lords event as IBMS President Elect Joanna Andrew tweets
Incredible day at the House of Lords what an honour #BiomedicalScienceDay2023 pic.twitter.com/eqRnT3HkXL

— Joanna Andrew ?? (@JoannaAndrew70) June 8, 2023
15.00 - UKHSA tweet their support
Join us as we celebrate the invaluable contributions of our scientists on #BiomedicalScienceDay2023 ????

Principal Toxicologist Emma Marczylo leads a team exploring health effects of environmental exposures.

Find out more about her work here: https://t.co/MoyuycqDEm pic.twitter.com/lr168BvZpe

— UK Health Security Agency (@UKHSA) June 8, 2023
14.55 - Biomedical Scientist of the Year Ian Davies posts from outside Parliament
Not a typical day in the office. Proud to represent @StaffsUni at a @UKHouseofLords reception to celebrate #BiomedicalScienceDay2023 hosted by Lord @JimBethell and the @IBMScience pic.twitter.com/UsmJR7eb3u

— Ian Davies (@StaffsBMS) June 8, 2023
14.50 - A great way to share the Sample Journey videos
Interactive posters in action! #BiomedicalScienceDay2023 #AtTheHeartOfHealthcare pic.twitter.com/oxqehcH71A

— Marie kirby (@Mazlou1014) June 8, 2023
14.15 - The flags have been used to great effect again this year
#BiomedicalScienceDay2023 #AtTheHeartOfHealthcare@IBMScience @IbmsLbb pic.twitter.com/Lfw1DSLReP

— Tiffany (@tiffany02uk) June 8, 2023
14.00 - Another politician shows their support
It's #BiomedicalScienceDay2023 so I want to thank the UK's amazing
biomedical scientists and hospital laboratory staff, especially students training in my #Canterbury constituency,#AtTheHeartOfHealthcare. They analyse over 1.5 BILLION samples a year! ????

— Rosie Duffield MP (@RosieDuffield1) June 8, 2023
13.00 - Lord Bethell kick-starts our Biomedical Science Day event at the House of Lords
Great to host @Debra54597120 @IBMScience at @UKHouseofLords for #BiomedicalScienceDay2023. ??

It's a profession that protected us in the pandemic and now steps up to the challenges of innovation, workforce and waiting lists. ??#attheheartofhealthcare @maggie_erewash pic.twitter.com/KM2224OdMa

— Lord Bethell (@JimBethell) June 8, 2023
11.55 - It's not Biomedical Science Day without cake :)
It was ever so tough for our cake judges @angleseatrc @joelnoom ?? #pathologybakeoffcomp #BiomedicalScienceDay2023 pic.twitter.com/lqEsnuQKgZ

— ESHT_Pathology ?? (@ESHT_Pathology) June 8, 2023
11.25 - What would a world be like without Biomedical Science? - Imagine no longer thanks to Rob at Redactive
11.00 - Big shout out to central reception teams across the UK
The central reception team is at the forefront of our pathology service.

They received more than 20 million samples in 2022 alone, which arrived from hospital inpatients, outpatients and GP patients.

Keep up the good work! #BiomedicalScienceDay2023 #AtTheHeartOfHealthcare pic.twitter.com/P1b0XYvD4q

— South Tees Hospitals (@SouthTees) June 8, 2023
10.00 - Thanks from NHS England
'I am proud to contribute towards providing the best care for every patient.'

This #BiomedicalScienceDay, we want to thank trainee Biomedical Scientist Muneebah and all our biomedical scientists across the NHS for your vital role in diagnosing our patients. ?????? pic.twitter.com/BxUTdfMGLf

— NHS England (@NHSEngland) June 8, 2023
09.45 - Say it loud and proud "Behind every test is a biomedical scientist"
MFT Lab Medicine + @MMU_LifeScience #AtTheHeartOfHealthcare #BiomedicalScienceDay2023 pic.twitter.com/PotKjsO1yY

— Lab Medicine MFT (@LabMedicineMFT) June 8, 2023
09.00 - thank you Chris Wilson!
@IBMScience if you are in London today look up! It's #BiomedicalScienceDay2023
I pulled together some material and made a brief video for the @bttowerlondon hopefully this will help spread the word across London! pic.twitter.com/XP1LQ8Aq8V

— Chris Wilson (@CjwilsonBMS) June 8, 2023
08.52 - Biomedical Science Day reaches new heights - a message of support on the BT Tower
I thought I was dreaming this morning when I left my lab after a busy night shift...only big ticket items get on @bttowerlondon#ThankYou @Debra54597120 @DavidRWells for arranging this?????? https://t.co/Mrd4g33aLm pic.twitter.com/kNYqElOpJx

— #HelloMyNameIsSimone?? (@S11886040) June 8, 2023
08.37 - A message from IBMS President Debra Padgett
Here we go everyone! One of the most special days every year ?? #BiomedicalScienceDay2023
Have a wonderful day and please share your pictures!!
Most of all THANK YOU on behalf of our patients for the amazing work you do 24/7 #attheheartofhealthcare @IBMScience https://t.co/DVa7abMdsm pic.twitter.com/nZiEbzc0s6

— IBMS President (@Debra54597120) June 8, 2023
08.24 - Wow this is amazing!
Happy #BiomedicalScienceDay2023!??

?? IBMS #UnderTheMicroscope ??

L to R: Blood vessel (mesentery), Barrett's metaplasia (oesophagus), sessile serrated lesion (colon), reactive gastropathy (stomach)#AtTheHeartOfHealthcare@IBMScience @NuTHPathology @Debra54597120 @DavidRWells pic.twitter.com/PYtsYghE4K

— Sarah Gibson (@mrssgibson) June 8, 2023
08.15 - our first entry to the Best Biomedical Science Video competition
It's #BiomedicalScienceDay2023 let's start our Twitter show by saying hello to our Haem Team at Birmingham Heartlands Hospital #AtTheHeartOfHealthcare @IBMScience @uhbtrust pic.twitter.com/jMZfFiHqAH

— UHB Pathology (@UHBPathology) June 8, 2023
07.10 - we start the day with a lovely post from our colleagues AAPT
It's #BiomedicalScienceDay2023 and the AAPT wish to say thank the UK's amazing biomedical scientists and hospital laboratory staff #AtTheHeartOfHealthcare. They analyse over 1.5 BILLION samples a year.

Enjoy a celebratory day our colleagues @IBMScience @DavidRWells and the team! pic.twitter.com/nWs2OQ9tUe

— AAPT (@AAPTTweets) June 8, 2023
Back to news listing