Queen's Speech: IBMS Response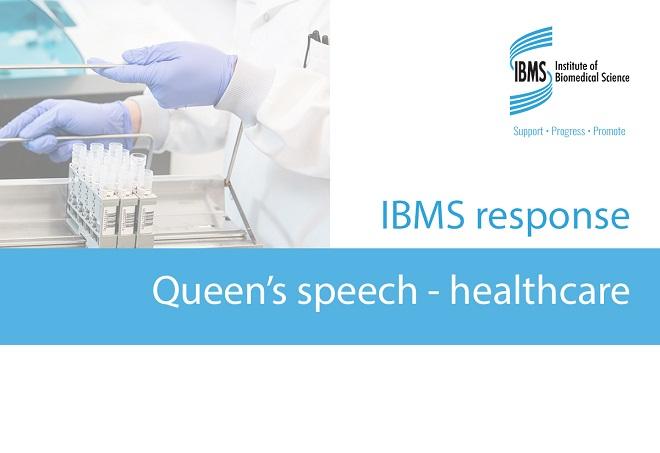 18 May 2022
The IBMS response to the plans to set out to increase capacity, reach and efficiency of the UK's diagnostic services in the Queen's speech

Introduction

The Queen's speech, delivered by Prince Charles on 11th May, reiterated government plans to increase the capacity, reach and efficiency of the UK's diagnostic services. In response, the IBMS offers the government and Department of Health and Social Care the profession's advice and expertise to work towards making this a reality.


160 new community diagnostic centres (CDCs)

The IBMS welcomes the move to introduce easier access to diagnostic services centred around patients. Quicker, easier access through a 'one stop shop' will lead to earlier diagnoses, better outcomes for patients and the potential to save lives. However, these new CDCs must be introduced with sufficient resources - in terms of staffing, IT provision and connectivity with other systems (such as pathology networks and GP practices).

The CDCs are likely to generate a significant increase in workload for our local and regional pathology laboratories, and change the way it is generated. To ensure efficiency and quick turnarounds, adequate collaboration with existing networks and IT interoperability is essential.

In order to adhere to the 'Point of care testing in community pharmacies' guidance (Jan 2022) and its "Buy it right", "Use it right", "Keep it right" ethos, Health and Care Professions Council (HCPC) registered biomedical scientists and other laboratory experts should be involved in the selection of equipment, quality assurance and governance of diagnostic devices when used for patient care in CDCs.

IBMS members across the four nations have expert qualifications in point of care testing (POCT) and are in a unique position to advise on successful POCT stewardship.


17 million more diagnostic tests over the next three years

Although the largest portions of this figure are made up of CDC testing and imaging services rather than healthcare laboratory services, the IBMS agrees with the government's plan to increase and improve the utilisation of our existing capacity for laboratory testing.

The pathology service has consistently increased testing capacity across the four nations. This was demonstrated over the past two years in order to control the spread of COVID-19. The workforce is in a unique position to support and inform any further requirements for increased capacity in diagnostic laboratories – provided the appropriate investment in workforce expansion is made.

The IBMS welcomes the opportunity to work with governments in all four nations in order to further increase capacity and improve patient care.

By March 2025, 95 per cent of patients needing a diagnostic test will receive it within 6 weeks

Although a large proportion of these figures relate to diagnosis via imaging rather than laboratory services, there is an expectation for increased capacity in our healthcare laboratories during a time in which they will be undergoing changes in operational procedures.

CDCs will provide new challenges regarding the collection, storage, transportation and reception of specimens. There will also need to be investment in fully linked up, standardised and interoperable laboratory IT systems - capable of receiving, sharing and delivering vital diagnostic test results to clinical pathways across the UK.

The IBMS would like to offer the profession's expert advice to ensure that these new changes in the patient pathway are not disruptive to patient outcomes and that the new methods of working result in better, not worse, patient care.


Conclusion

In order to meet the government's ambitious goals for our diagnostic services, there must be investment in the workforce, in new ways of working and in interoperable IT systems, and – in order to avoid some of the pitfalls faced when setting up the Lighthouse Laboratories - we must use the existing expertise of our diagnostic workforce when setting up the new CDCs.

The IBMS would gladly accept the opportunity to work with government across the four nations to further increase the capacity, reach and efficiency of the UK's diagnostic services and to ensure the best outcomes for patients.


[This statement has been press released and sent to all relevant government departments]
Back to news listing