Supporting the development of new training solutions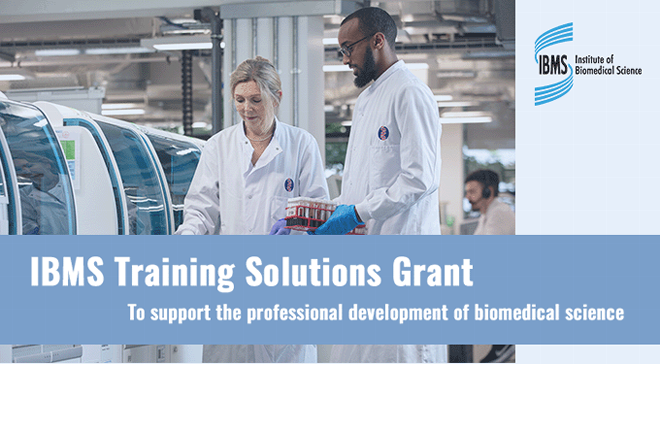 11 September 2023
We are launching a new grant to support the development of training solutions to support all staff working within biomedical science.
The IBMS aims to promote and develop the role of biomedical science within healthcare, to ensure we are providing the best possible support for our members, and to maintain patient care and safety.
To help deliver this objective, we are encouraging recognised networks and health systems to collaborate and develop sustainable training solutions that can support the professional development of biomedical scientists and biomedical science support workers.
To that end, we are launching a new grant funding opportunity across the UK, available to the 27 networks in England, other recognised health systems, and to recognised groups of hospitals or healthcare systems in the other home nations and Crown Dependencies.
Debra Padgett, IBMS President, comments:
" I'm delighted to see the launch of the new grant to support the development of training solutions. It testament to the ongoing work we undertake to support, progress and promote our members and the wider healthcare community. This is a fabulous opportunity for those working in training roles to think differently about how we could deliver training and support our workforce in their career development. I look forward to seeing the results of the fantastic initiative."
The grant is aimed at funding one-off development costs for sustainable training solutions and/or materials. This may include resources to support progression towards an IBMS qualification, or to deliver wider Continued Professional Development (CPD) for those working in biomedical science.
The funding is specifically intended to support the development of new training materials and solutions to enhance the training/CPD of any staff roles within the biomedical science field. Please note that awards will not be made to pay for staff to undertake existing training/CPD programmes.
Grant applications will be considered on an (approximately) quarterly rolling cycle and are not constrained to one financial year. Submitted applications will be evaluated by an IBMS panel; consisting of the IBMS Honorary Treasurer, IBMS Head of Learning and Development (Donna Torrance), Head of Digital Education (Jim Taylor) and Executive Head of Finance (Mark Finnie).
We are happy to have informal discussions with project leads during the preparation of the application to answer any questions. These should be addressed to either Donna Torrance (donnatorrance@ibms.org) or Jim Taylor (jimtaylor@ibms.org).
Important documents:
Back to news listing