100 years of female membership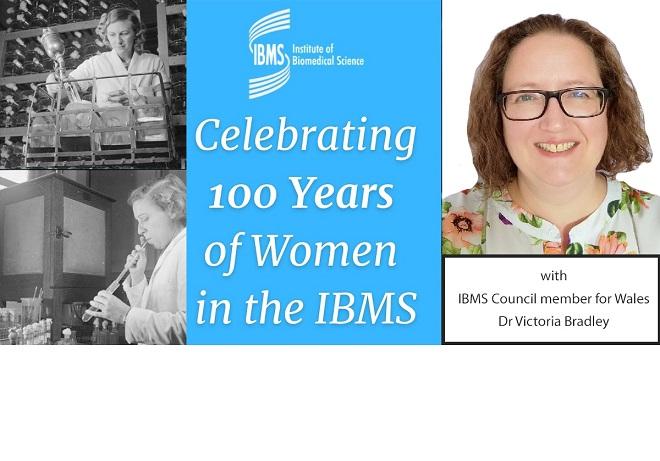 3 June 2022
IBMS Council member for Wales, Dr Victoria Bradley, talks women in science and whether the IBMS does enough to support women

What drew you to the field of biomedical science?
I always loved science at school. It was my favourite lesson - it suited my logical nature and as the saying goes 'do what you love, love what you do'. This led me onto GCSE and A-level science and a week of work experience in the local pathology laboratory. That was me sold. I knew what I wanted to do.

I always wanted a career which made a difference and I found out that I could use my love of science to build a career and make a difference to patient's lives.

Has your profession changed for women since you entered it?
Throughout my career I've worked with lots of strong independent women who have inspired me to always push my boundaries so that my career has always focused on 'what next' rather than what I don't think I can do.

There are more women in senior positions and at a younger age. In the past, taking time out to start a family could delay career progression but this doesn't seem to be as noticeable now. I think the introduction of flexible working has helped with this massively.

When I was a trainee there were some roles in the laboratory which men were drawn to or assigned to such as IT and analyser maintenance and repair and this has most definitely changed.


Going forward, what further changes do you expect to see for women in your profession?
More flexible working - because it enables parents to share parenting responsibilities and all family structures to embrace family life. It's essential in order to have attractive career opportunities within biomedical science.

I think that career pathways will become more flexible and acknowledge the potential of our reach outside of the laboratory's walls. With that, there will be access to further education and CPD opportunities to support our career development.


What would you say to young women hoping to start in your field?
Any opportunities which come up that you have an interest in, even if it's a bit different from what you are used to, go for it. You never know where it will take you. Don't think 'Why would they pick me?' Have the attitude of 'Why not me?'

Work on your imposter syndrome. We all suffer from it (not just women). We all have doubts about our own ability. In the words of Carrie Fisher (the greatest Disney princess ever) "Stay afraid but do it anyway. What's important is the action. You don't have to wait to be confident. Just do it and eventually the confidence will follow".

Also, find a mentor - someone you trust and admire. It doesn't necessarily need to be someone you work with. Consider your wider network, social media and the people you connect with at meetings and conferences (there is also the IBMS mentoring platform). Find someone you can talk to about your career and the direction you want to take. Mentors are also really good for when things don't go to plan and you need to unpick what happened.

What made you get involved with the IBMS?
I've been involved with IBMS activities since 2009 when I became a verifier and an examiner to further my understanding of the processes involved and to see how others approached the IBMS qualifications. I was keen to do more and an advert in The Biomedical Scientist calling for new members for the Clinical Chemistry Special Advisory Panel prompted me to apply.

I have a lot of clinical experience and have got a lot out of my IBMS membership over the years, so I felt the time was right for me to give something back to the profession I love. My application to the panel was successful so I joined at the beginning of 2019 and I'm now deputy chief examiner for Clinical Chemistry. My experiences with the panel gave me the confidence to run for the IBMS council elections, and in 2020 I was elected to the Welsh seat.

I would encourage all of our members to support our profession in any way they can. There is a need for more verifiers and examiners to add to the active pool, and this role is so much more accessible now they are undertaken remotely. Consider putting yourself forward for the council elections next year, we need input from all areas of our profession to make it work for everyone.

Do you think the IBMS does enough to support women?
In a word, yes!

I have never noticed a gender bias in the material produced by the IBMS, or in any of my interactions with them. There have always been a number of women in senior roles and currently the IBMS council is 52% women - which I believe is the highest percentage in IBMS history.

"Sisters are doin' it for themselves" (Annie Lennox and the late, great Aretha Franklin)

More about Victoria's career...
I started my career in biomedical science in 1992 as a trainee at Southport & Formby District General Hospital. Back then I was a trainee MLSO, undertaking multidisciplinary training in Biochemistry and Haematology whilst doing a part-time degree at Liverpool John Moore's University.
It was brilliant being able to put my academic learning into practice the next day, particularly when I couldn't immediately see the relevance. The highlight of my training was when I left alone to get on with the Hb electrophoresis and discovered a rare Hb which was sent off to Paris for amino acid sequencing (Hb Fort Gordon). The worst point was breaking the new Biochemistry analyser – we all have our bad days!
I did my blue book and became state registered with CPSM in 1996, I still remember the viva with fear as I was handed arterial blood gas results and an electrophoresis strip to interpret. I started multidisciplinary on-call quite literally the next day, although I never did get on with the microbiology side of things.
I emigrated to Wales at the turn of the century to work in Chemical Pathology at Morriston Hospital and it was here that I developed my love of training. Returning from maternity leave in early 2005, I was asked to support a placement student in completing their Certificate of Competence and I haven't looked back since.
I undertook an MSc at University of the West of England in Clinical Biomedical Science through a combination of block release and distance learning, completing in 2003, and shortly afterwards became a Fellow of the IBMS and a Chartered Scientist. Not wanting to rest on my laurels I then undertook a Professional Doctorate in Biomedical Science at the University of Portsmouth and passed my viva in 2013. It took 9 years and 2 kids to complete my doctorate but is was well worth it.
In 2006 I was seconded for 2 years to work on a research project, funded by the Welsh Assembly Government, to develop a qualification for pathology support worker. I was based at Glangwili Hospital in Carmarthen, working closely with Skills for Health to identify and develop appropriate national occupational standards.
I became a training manager in 2008, i really enjoyed supporting trainees through the Certificate of Competence and watching them develop as biomedical scientists. I revitalised the departments training programme for all staff and working with managers across pathology to share good practice. During this period of my career I undertook an NVQ in Leadership and Management to better understand my role as a manager.
Most memorable samples during my clinical practice;
A stool sample wrapped in newspaper
Purple urine
Green blood (hulk green due to blue serum!)
Urine sample for a diabetic annual review in a honey jar
In 2015 I made the move to academia to be able to work with a wider group of future biomedical scientists. I joined Cardiff Metropolitan University as a lecturer and clinical learning facilitator, managing student placements across Wales. Whilst at Cardiff Met I've completed a PGCE in higher education, attained Senior Fellow of the Higher Education Academy and most recently, appointed as Programme Director for Healthcare Science. In this role I am responsible for both academic and pedagogical leadership of the programme.
I am heavily involved with our professional body, having been a Certificate of Competence verifier and Specialist Diploma examiner (Clinical Chemistry) since 2009. In 2019 I joined the Clinical Chemistry Specialist Advisory panel, becoming deputy chief examiner in 2021. I ran for council election for a national seat in 2019, which I wasn't successful at, but as a consequence was seconded to council in August 2019. In 2020 I was elected to the Welsh seat on the Council.


If you want to get involved in our 100 Years of Female IBMS Members campaign - please contact us via communications@IBMS.ORG. We would love to hear from you!
Back to news listing