Apply for Biomedical Science Day Activity Funds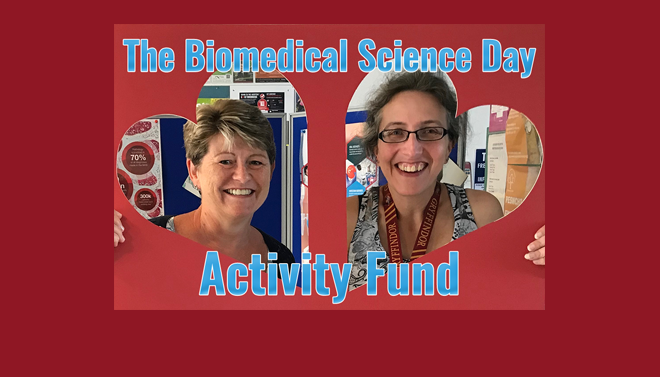 2 April 2019
Support your Biomedical Science Day activities with a grant from the Albert Norman Trust Fund
If you are planning to organise events for Biomedical Science Day, consider applying for the Biomedical Science Day Activity Fund. The fund will provide grants of up to £500 for IBMS members to develop their biomedical science related activities and events.
Activities should aim to raise public awareness of biomedical science and demonstrate the value of the profession and its role in prevention, diagnosis and treatment of infections and disease.
The grants have been made available courtesy of The Albert Norman Trust Fund. They may be used to support a range of activities including buying equipment and resources for experiments, exhibition space at careers events, marketing and communications materials, incentives and giveaways.
We recognise that not all members are able to participate on the day and therefore grants may be used for activities up to 30th September 2019.
How to apply
Please complete our online application form by Friday 17th May.
After the deadline, submissions will be reviewed and the successful applicants will be notified by email by Friday 24th May.
Successful applicants must show that their activity:
Is realistic, planned and has a well thought out budget
Applies a creative and innovative approach
Raises awareness of biomedical science to a wider audience
Funds of up to £500 per applicant will be sent by cheque to the successful members who will have to provide receipts of all purchases.
If successful, applicants will be required to provide pictures of their event and write up their activities afterwards to demonstrate how the funds were used, which will be used for promotional purposes.
Should you have any questions, contact communications@ibms.org.
Using the funds last year…
Glen McDowell and members from the Belfast Trust Hospitals held an open day in the hospital to celebrate Biomedical Science Day. Glen commented:
"The funding helped immensely. It allowed us to create Belfast Trust laboratory pull up posters, table banners and pay for ingredients involved in the 300+ tray bakes and cakes for the lunchtime seminars as well as sundry items required. The money has also been used to secure the interactive projector which was used in the display in BCH."
Ian Davies, Jo Battley and Trish Proctor used the funding to organise activities at Royal Stoke University Hospitals (University Hospitals of North Midlands NHS Trust). Ian commented,
"The funding enabled us to commission cartoon artwork, produce and print a life-size 'peep board' as a focal point to the display. The artwork was commissioned from a current Staffordshire University Comic and Cartoon Arts student and printed on A0 foam board by a local printer (and I built the frame).
We were aiming for a comic science theme with both male and female scientists and care was taken not to imply ethnicity. After the event this was installed within our University Science Centre reception to engage passing visitors, and will travel around the county at future outreach events."
Dr Christopher O'Kane organised an event entitled "Diversity and Diagnosis" at the new Science Centre of Anglia Ruskin University. He said,
"The event was supported by the Albert Norman Trust which supplied funding for the chemical reagents and laboratory consumables used. This allowed the participants of the event to get a better grasp of the science behind the laboratory tests performed by biomedical scientists as well as permit those with an interest in studying biomedical science to get an insight into the skills and experience required to be at the heart of healthcare."
Back to news listing