Biomedical Science Day celebrations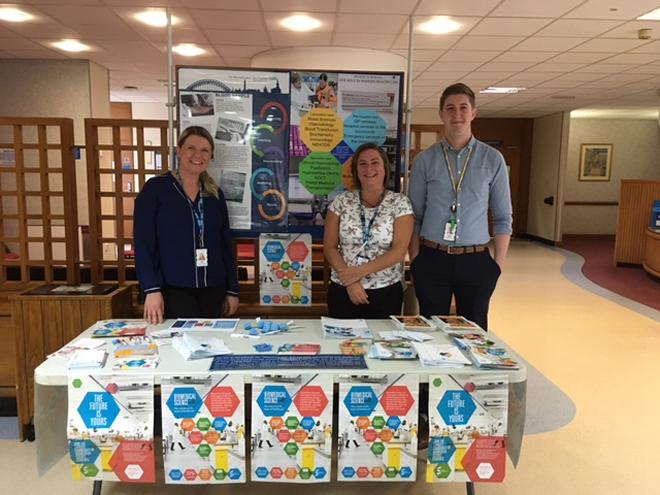 21 July 2017
Staff around the world celebrated Biomedical Science Day
19 July marked the first annual Biomedical Science Day. In honour of IBMS founder Albert Norman's birthday, the Institute decided to celebrate and promote biomedical science with an annual day of celebration.
This year's theme was to celebrate and promote the diverse roles of our members in biomedical science and the response was incredible. Biomedical science staff from outside the UK also took part, including members from Finland, Ghana, Nigeria and Kenya promoting their roles in biomedical science.
Biomedical science staff showed their support through online selfies and team photos to sharing art and delicious themed cakes.
Here is what a few of our members did to celebrate the day:
The Pennine Acute Hospitals NHS Trust hosted a tour of the pathology laboratory for Year 12 pupils.
Lewisham and Greenwich NHS Trust held an Open Day for students and Trust staff. Interim Pathology Clinical Governance Manager Carol Macfarlane shared, "We had such a good response, and we got replies from colleagues working in a very diverse range of departments - Medical Secretaries, Clinical Effectiveness, Research & Development, Admissions, Legal services, the GUM clinic, Finance and Sterile Services!
They all gave positive feedback about how interesting and informative it was, how surprised they were at the size of the lab and the huge range and complexity of the tests we did. Some of them got the chance to watch a dissection of a breast biopsy by one of the consultants, and all said they would recommend it to other colleagues. A great day all round!"
The staff at Freeman Hospital, Newcastle upon Tyne Hospitals NHS Foundation Trust hosted a stand. Advanced Biomedical Scientist Charlotte Ewing said, "Biomedical Scientists and trainees from Laboratory Medicine at Newcastle upon Tyne Hospitals NHS Foundation Trust had a great day speaking to staff and patients about Biomedical Science and the different tests performed.
Some patients didn't realise their specimens were tested within the hospital while others thanked us for playing a part in their diagnosis and treatment. Everyone enjoyed the IBMS Biomedical Science Bugs and as always the IBMS pens were a favourite of both staff and patients! We all enjoyed helping patients, relatives and other staff groups catch the Biomedical Science Bug."
Hull Royal Infirmary welcomed Chris Long, Chief Executive of Hull and East Yorkshire Hospitals Trust to their laboratories. Pathology Training Manager Chris Chase commented, "Staff talked to him about the role of Biomedical Scientists, and he seemed fascinated at the range of service the laboratories offer. He also praised the staff's enthusiasm!"
East Lancashire Hospitals welcomed Julie Cooper MP for Biomedical Science Day. Julie tweeted, "Delighted to mark #BMSday2017 with a visit to path lab at RBH. An impressive range of diagnostic work, crucial for best patient care."
Ross Mitchell hosted a stand at a hospital open evening event at North Bristol NHS Trust. John Loy, Library & Knowledge Services Manager commented, "it was a cracking evening. All in all a great success, with terrific teamwork showing NBT off to its best.'
Hayley Pincott, an RSci Tech at University Hospital of Wales, organised a stand to promote Biomedical Science Day. She said, "We had quite a few elderly patients approach us as they were waiting for hospital transport and when we explained that we play a huge part in the NHS which 70% of a doctor's diagnosis comes from us in the lab.
It was really engaging having the stand in the hospital as we could relate what we do to the patients, I explained to a young boy that the blood bank department had a huge role to play in the blood transfusion he was about to have and that if us in the lab didn't tell the doctors what blood to give him it would make the doctor's job much more difficult.
A gentleman approached me and said that he has been diagnosed with heart and lung disease. I told him that all the blood tests that he had helped the consultants reach that diagnosis and therefore know how to manage his conditions. When I explained to people that I work in cellular pathology and explained what that actually meant I was amazed at how positive the response was and then patients asked if I've dealt with the tumour they've had removed.
Overall a really positive experience especially with the patients as I could put everything we do as a service into context. It was quite humbling when a few people told us we were doing a good job and to keep it up."
Blackpool Teaching Hospitals NHS FT hosted a Biomedical Science Day stand. Joanne Sharples, Cellular Pathology Manager said, "There are 240 staff that work in Pathology in Blackpool and the day was really well supported by Pathology and our Trust communications team. The stand was great, we had lots of interest from other hospital staff and patients and visitors too.
We were asked questions from some young school children interested in science and about the work we do, and from patients who were asking about where their samples go and what happens next. It was great to see people's reactions when we explained the work of a biomedical scientist! Hopefully, we helped to raise the profile of Biomedical Science and the important work that we do."
Celebrating online
Our social media posts were seen by an incredible 166,198 people on the day! On Facebook, Our posts were seen by 114,692 unique accounts, whilst on Twitter 51,506 unique accounts viewed our tweets.
Our dedicated website page attracted 834 visits.
Poster and photo competitions
We had 125 requests for posters, sending out over 600 worldwide. We also sent out 49 Albert Norman celebratory birthday cards to our members born on 19 July.
Finally, we received over 250 photos from biomedical science staff responding to our photo requests, whilst 294 people supported our Facebook profile ribbon campaign.
Thank you
We wish to thank all of our members who took part. It is by all of you taking part that made this first Biomedical Science Day special, and we hope to make it even bigger and better next year.
Date for the diary - 19 July!
Back to news listing