Biomedical Scientist of the Year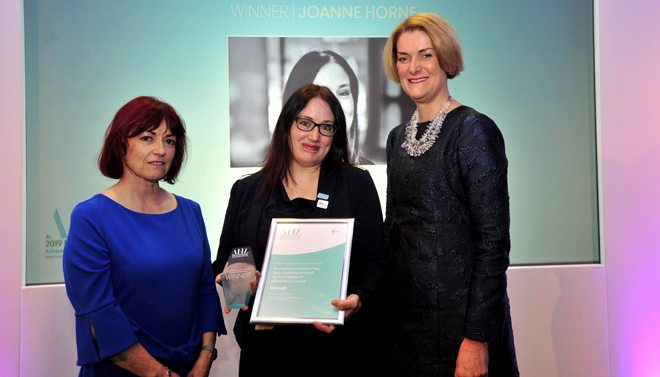 24 April 2019
Dr Jo Horne, the AHAwards' 2019 Biomedical Scientist of the Year, shared a few words about her win
The Advancing Healthcare Awards seek to recognise and acknowledge the contributions that healthcare scientists and allied health professionals make during the course of the year. This year's winner of the IBMS-sponsored Biomedical Scientist of the Year award is Dr Jo Horne, a Lead Healthcare Scientist at University Hospital Southampton (UHS).
Jo shared her perspective about her accomplishments:
"In late 2017 I officially completed my training for the reporting diploma in gastrointestinal histopathology. This meant that I could formally begin to practice independently, and I did so as part of the GI consultant team within my department - so this has been a really challenging year for me professionally! The move away from formal supervision to the responsibility of independent practice is one which shouldn't be underestimated, however, it is one that I have relished.
I now have my own dissection and reporting workload and also represent histopathology at multidisciplinary team clinical meetings. It is an absolute privilege to do my job, and an opportunity which I hope many other aspiring healthcare scientists, whether from a traditional biomedical science background or the newer Clinical Scientist STP pathway, can achieve."
Promoting careers and mentoring – one of the most valuable things I have done
"This is why over the last year I have continued to promote advanced careers within histopathology to colleagues and peers all over the UK and Ireland – and the growth of social media, especially Twitter, has made reaching people even easier! As we develop and promote advanced careers, it has become clear that we need to reach not just scientists themselves, but also managers, pathologists, stakeholder organisations and commissioners.
The will is often already there from the scientists within the laboratories, but it is the wider decision-makers and funders who we also need to have strategic conversations with to ensure that the support and vision is in place. Over the last year, I have focused more on this important work, initiating and getting involved with discussion and debate, which can sometimes be challenging and requires a completely different skill set!
In the last few years my focus has been on my own clinicopathological learning, but since completing my training I have realised that I need to develop a different set of skills – to influence and enable change at a more strategic level; to demonstrate what we, as Biomedical Scientists, can offer our organisations, and how we are an important part of the future NHS, now working towards the Long Term Plan.
Towards the end of my CSO WISE Fellowship I was given a formal mentor, who works within the NHS, but not at my Trust or within my own specialty. This, alongside leadership training, has provided the support and confidence boost that I needed to help me push myself into this new territory where courage and confidence is definitely required. When biomedical scientists ask for career advice, I now usually advise them to seek out a mentor, as I think it is one of the most valuable things that I have done.
As well as promoting advanced careers, this year I have also continued to work towards their further development. I am a member of the conjoint board for the IBMS/RCPath histopathology dissection and reporting qualifications and contribute to the assessment and development of these qualifications. Alongside this, I continue to support colleagues undertaking these qualifications, by giving talks or advice.
This year I have continued in my role as UHS Lead Healthcare Scientist, where I represent the hundreds of healthcare scientists within my Trust. This additional role is really enjoyable, as it enables me to work outside of my own department, collaborating with colleagues working in a wide variety of specialties, which are often completely different to my own. Within this role, I am able to provide support and encouragement, share information and resources, and lobby at a more strategic level to enable our voices to be heard at organisational level. As part of this role I have participated in careers events and the annual Trust open day, and I run an annual education meeting for healthcare scientists. I have been Lead Healthcare Scientist for just two years, but already can see positive changes happening, and this is incredibly rewarding."
Social media – increasing recognition of biomedical science one tweet at a time
"As a result of my activity on Twitter, I have set up organisational accounts for healthcare scientists andpPathology and I most recently collaborated with biomedical scientists from around the UK to set up @WeBMScientists. This account has further increased our presence and recognition, but also provides a supportive forum where biomedical scientists can get together to share knowledge, debate key issues and ask for advice, which often appears within minutes. It's wonderful to see how these platforms are bringing professionals together, so much so that I have also started to give talks on the professional use of social media this year!
In the last year, I also received media training from the IBMS, which was a fantastic opportunity where I learned a great deal about myself, but also gained some of those wider skills required to speak on behalf of peers and the profession – which I have done increasingly this year. This has included giving interviews to The Guardian newspaper, writing blogs and articles for numerous professional publications and websites, making a promotional video with Cancer Research UK as part of their 'Shoulder to Shoulder' campaign, and working with the IBMS to create the histopathology sample journey animation."
Reflecting on 2018 – I have never felt prouder
"Looking back, it has been a busy, but incredible year. I haven't achieved this by myself, and there are many people who I either work with or who have provided me with peer support in person or via social media. Biomedical science is a fantastic career and one which I have never regretted following after all these years. Sometimes it can be really challenging and stressful, and the things that I have focused on this year have not so much been the hard science, but more of those 'softer' skills, such as peer support, emotional intelligence, gratitude and kindness.
That is why I feel so incredibly proud to have won the Biomedical Scientist of the Year award, as it is a clear demonstration of this different skillset. This week I returned to work and was in an MDT meeting when one of my clinical colleagues stopped it for a minute to congratulate me on my success, as one of their team. For me, career success isn't only measured by qualifications and experience, but also by acceptance, support and kindness from colleagues and peers. As Biomedical Scientist of the Year, I have never felt more strongly that my role is to continue pushing and promoting our profession, to speak up for those who maybe haven't yet found their own voice, and to encourage and celebrate others. I have never felt prouder."
On behalf of the IBMS, we wish Jo warm congratulations on her achievement.
Back to news listing