Children wowed by 'Cellfie' board and botfly larvae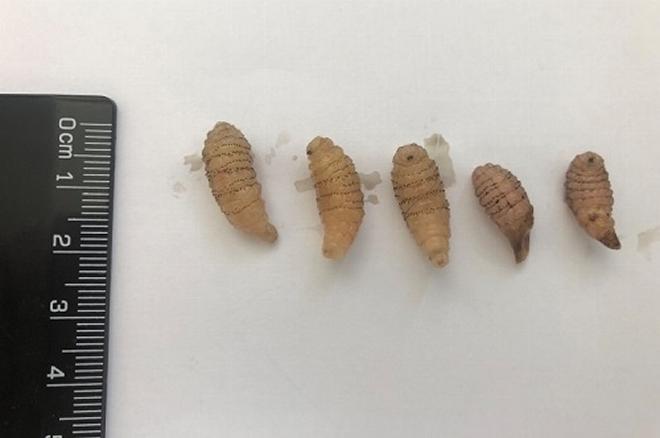 10 October 2018
The Royal Devon and Exeter Hospital held an open day and had a fantastic response from the public
If you're looking for inspiration for National Pathology Week, look no further than the staff at the Royal Devon and Exeter Hospital. They opened their doors and gave tours of their labs for both staff and the public last week and commented that 'The visitors were all really engaged and surprised at all the highly detailed work that went on' and that they were 'interested to find out how samples were dealt with in Microbiology'. Their infamous 'Cellfie' board (for visitors to take photographs of themselves in lab coat, goggles and gloves) went down particularly well with the younger visitors.
Histology – Upon arrival all visitors were asked to don a cut up apron and nitrile gloves. They were taken into cut up and shown some fixed specimens which had been donated for training purposes. This included a femoral head, kidney, and gall bladder including stones and uterus. They discussed why they may have been removed and how histologists select blocks and the importance of inking. The next stage was to visit the main lab where they demonstrated how blocks were made and then sections cut on a microtome. The visitors were finally shown how slides are stained and how diagnoses can be made down a microscope.
Cytology – There was a short presentation on the national cervical screening programme and the importance of screening in general. The visitors were then shown the early wooden spatulas and slides and the move to the current LBC brooms and use of technology to produce cleaner slides. Microscope stations were set up to demonstrate infections and the progression of cervical disease (low grade, high grade and invasive slides) with annotated picture boards in front and an NHSCSP atlas at each station. Half of the slide was dotted and they had to find similar cells in the other half and then dot these cells (the younger visitors loved this!).
Microbiology – The basics of bacteriology were explained and then - by plating out onto various media - visitors got hands on experience. They were then split into 2 groups that swapped over so everyone got a chance to have a closer look:
Group 1: Looked at various bacteria using a x100 oil-immersion light microscope and at larger artefacts using a plate microscope – this included a botfly larvae which resulted in much amazement and discussion.
Group 2: Looked at plates after incubation and discussed normal flora, commensals and pathogenic bacteria and how sensitivities are performed.Virology- discussed how viruses are detected by immune response or detection of DNA/RNA. Demonstrated the POCT flu method and the positive effect this has had on bed management and infection control during the winter months.
Comments from their visitors:
"Cutting of sections is a highly skilled job"
"I had no idea what went on in a medical laboratory"
'Didn't realise you did so many different things in a lab'
'Need such a lot of concentration to screen slides'
'So this must be where my samples come'
'Staff are so enthusiastic - they must love their jobs!!'
Back to news listing