Every member's voice - Dennis Heath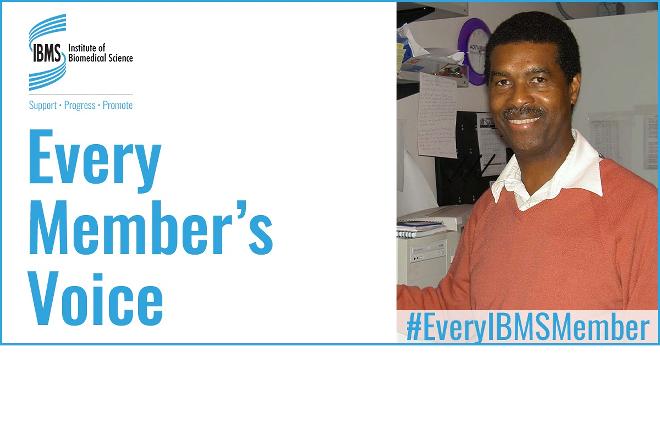 28 September 2020
The IBMS is proud of every member and seeks to support and promote everybody's role in biomedical science
IBMS members of Black, Asian and minority ethnic (BAME) ethnicity have been disproportionally affected in the UK by the COVID-19 pandemic, whilst the Black Lives Matter campaign has highlighted the need for greater understanding of the day-to-day issues of prejudice that many of our members face.
Therefore, we are asking our BAME members to contact us so that we can create a series of case studies. These are being used for an ongoing campaign of support and recognition to highlight the diversity of our membership and to show the value and strength that diversity brings to the biomedical science profession.

Our second case study comes from IBMS Fellow Dennis Heath:
I am a Biomedical Scientist, recently retired after fifty years. I currently reside in the United States. My working career and experience started and progressed through four United Kingdom NHS laboratories. As a BAME member of the IBMS, in my personal reflections, I can unhesitatingly state that I did not encounter any obvious barriers or visible prejudice. In all my job applications, interviews and positions there were nothing of note or remarkable.

However, in hindsight, it was extraordinary that there were so few workers from minority groups in laboratory positions. This may have been due to a lack of interest in this career pathway but I later learned that minority job seekers were not aware of the availability of laboratory jobs. The real reason may have been because these jobs were not advertised in minority read magazines, newspapers, or social gathering sites. My first position was advertised in a daily national newspaper, which I grew up reading every day. Other positions were advertised in the IBMS's gazette.

As I matured, travelled and became more experienced, the signs that prejudice was common and systematic in many career pathways for minorities became obvious. Sometimes the prejudice was quite blatant and in plain sight but mostly the bias and prejudice were more subtle and not easily recognised. I am happy to see that the IBMS has publicly acknowledged and recognised that more can be done to help its minority BAME members.

I am also pleased to know that the IBMS distributes information and pamphlets to schools and colleges and that many IBMS members visit young people for careers days and assemblies. In my early career, information was hard to come by and I still think more could be done. The IBMS should encourage NHS laboratories to advertise laboratory jobs in minority read magazines, local community newspapers, libraries, job placement agencies and recruitment newsletters catering to minorities. This should include "social gathering sites" and clubs - these groups usually involve a local community leader or organiser with in-depth knowledge of the community's population, the unemployed and those seeking work.

It is obvious to many that minorities are underrepresented in many job types and careers. The IBMS as part of the national community should help to correct this inequality. The problems of prejudice are not more prevalent in IBMS careers, and it is not my intention to infer or impute otherwise. However, now that the IBMS has stepped up to acknowledge the inequality, I am moved to say thank you, and clearly state that I have noted today that the number of minorities employed in laboratories requiring IBMS sponsored qualifications has grown significantly.

This increase of minorities employed in in laboratories will result in BAME members looking to expand, improve careers and seek promotions. Over the course of my career, I observed many flawed hiring processes and, while they might not seem overtly prejudiced, it has struck me that they can and do have a negative impact on the hiring of minorities. Here, I implore the IBMS and its members to encourage fairness in the workplace and to avoid practices such as those observed in the examples listed below.

One: the recruitment of pre-selected candidates at the expense of others who are equally qualified and perform better in interviews. Two: when interview panelists have a prior preference and score a candidate too highly in an interview process that should have an objective scoring system. Three: when a pre-selected applicant does not even make it through HR screening but the department head bends the rules and the individual still manages to get the job. Time and again, I have seen these occur.

Perhaps at the end of the next generation's careers, a minority laboratory worker might look back and be pleased to see a more objective and fair hiring process in place across the board.
Back to news listing