GOSH study uses DNA sequencing to identify century-old tumours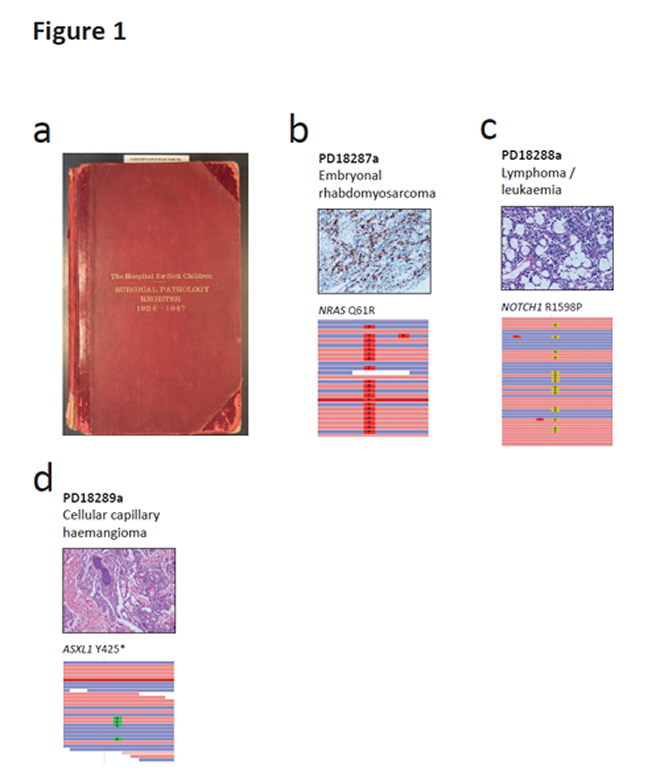 13 June 2017
A team of researchers studied century-old tumours from the pathology archives
IBMS member Alex Virasami and his colleagues from Great Ormond Street Hospital (GOSH) examined the pathology archives for the oldest intact tumour specimens available.
The study was conducted in the GOSH histopathology lab under the supervision of Toby Hunt and Neil Sebire. Dating from the 1920s, the specimens they found were from the earliest period when reliable reports and tissue blocks were available.
The team from GOSH chose 3 different samples and extracted their DNA. As it is now possible to reliably sequence formalin-fixed paraffin-embedded tissue (FFPE), the 3 samples chosen were sequenced using parallel sequencing and compared to 96 FFPE tumour specimens of the past decade.
In an article published in The Lancet, The team from GOSH, with collaborators at the Sanger Institute reported a reduction in capture efficiency in the older specimens, which they explained is a known effect of age on FFPE-derived DNA.
The team reported that FFPE preservation of tumour tissue successfully preserves DNA for almost 100 years and keeps it in a condition suitable for parallel sequencing. These findings have paved the way for future archaeological investigations into rare tumours of the past. This provides a real benefit to patients suffering from extremely rare diseases.
Alex commented, "Where there may be for example only five new cases per year, if we were to collect data prospectively it would take twenty-five to fifty years to collect enough samples for a research experiment, and the patients may not survive long enough to benefit from the research. Going back in time to find the samples to test gives power to our experiments today."
This study was also published in The Guardian, and featured in a BBC news programme on BBC Radio 4.
Are you doing research in the field that you'd like to share with us? Contact us today at news@ibms.org.
Back to news listing