IBMS members go the extra mile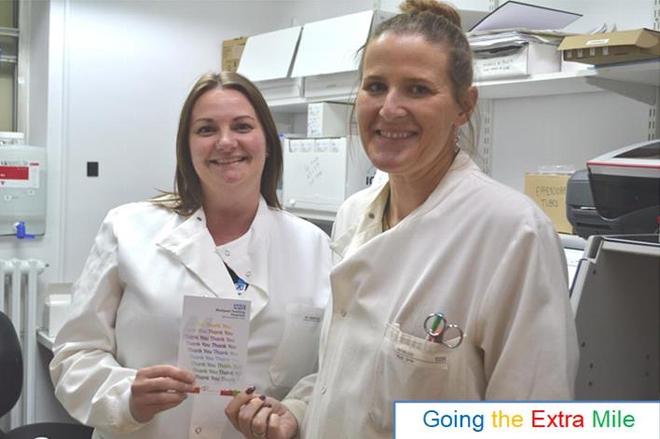 15 August 2019
Joanne Sharples and Helen Sanna recognised for 'Going the Extra Mile' on their work in providing a new service for lung cancer patients

IBMS members Helen Sanna and Joanne Sharples, who are colleagues in histology at Blackpool Teaching Hospitals, have been recognised by their Trust for 'Going the Extra Mile'. The pair were instrumental in providing a new service for lung cancer patients. We caught up with them to ask them about their project:
Could you tell us about your background in biomedical science?
Jo - I have been working in Histology at Blackpool Teaching Hospitals since leaving University. I did a placement year in the department in 2002 and have been here ever since! I started as a trainee Biomedical Scientist and am now the laboratory manager for Cellular Pathology. I live in Blackpool and this is the local Trust for my family and friends, it is important to me that we offer the best services we can to the local community.
Helen – I have worked at various hospitals throughout my career in Histology, and have been working at Blackpool for four and half years now. I am a Senior Biomedical Scientist with a lead role in Immunohistochemistry and a keen interest in service improvement.
How did you get involved in molecular testing?
The pathology department has good links with the Cancer Services and Performance team within the Trust and together we were looking at ways to improve the lung cancer pathway for patients. A bid for funding was submitted to the Lancashire and South Cumbria Cancer Alliance outlining how we planned to reduce the turnaround time of a number of lung cancer tests (PD-L1, ALK, EGFR and ROS-1).
Previously these specialist lung cancer tests were sent away for testing with results taking between 7 and 10 days. By bringing the tests in-house we have been able to reduce this wait to less than 5 days, improving the patient pathway.
The service in Blackpool now provides these tests to the three other Trusts in the region, so even more patients are now benefiting from reduced waiting times for results.
What challenges did you face on your project?
Developing a new service such as this requires input on a lot of different levels. It has been a real team effort in Histology that has brought about the success of this service and I am really proud of the team that have made this happen. We have had staff dedicated to the validation and verification of the new tests, producing new documentation such as SOPs and risk assessments, we have had to procure new equipment, undertake UKAS assessment of the new tests and roll out the service to three other organisations. It has been a lot of hard work as the standards we have to conform to when performing tests are extremely thorough but also really rewarding to see the success of the project and be able to deliver the service to improve patient pathways.
How does molecular testing improve the quality of the lung cancer service?
These specialised diagnostic tests help to determine whether or not treatment with a specific drug(s) is likely to be beneficial or not. This targeted approach can offer more treatment options to patients with non-small cell lung cancers.
The delivery of these tests on site has reduced the waiting time for the results from 7-10 days to less than 5 days. This change has enabled clinicians to have access to complete results sooner than they could previously. This means treatment decisions can be made earlier, benefiting patients and improving the Trust's 62 day pathway.
What benefits will the new service bring to the patient experience?
Patients will be able to obtain their results earlier, meaning treatments can begin earlier too. They will have less time to wait for results appointments which will also reduce anxiety.


When talking to their Trust's communications team:

Helen said: "This has been a huge project we have introduced at the Trust and we are now completing the lung cancer testing for three local Trusts as their samples are coming through our lab too. It is fantastic for us to have this in house and we have reduced the wait and turnaround time from seven to ten days to now less than five days, which is brilliant for patients. We are also delighted to pass the UKAS accreditation which is brilliant for our department."

Jo added: "Our work now means that patients can start their treatment earlier and we know 350 patients have already benefited from this since January. We were delighted to receive the Going the Extra Mile card but it really has been a team effort to make these fantastic changes. I am so proud of everyone and what we have achieved! The Going the Extra Mile scheme is a lovely idea."
Jo and Helen have also found out that their Cellular Pathology department has been shortlisted for the Innovation and Service Improvement Award at the Blackpool Teaching Hospitals' annual Celebrating Success Awards which take place in November. We have got our fingers crossed for them and want to say congratulations and thank you for going the extra mile!
Back to news listing