IBMS members join NHS Clinical Entrepreneur programme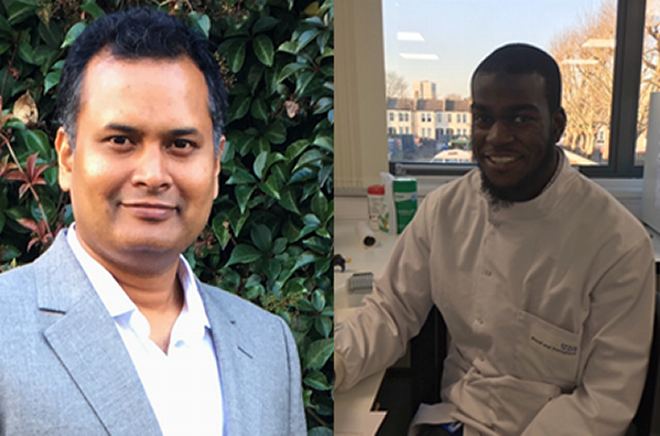 11 January 2018
Biomedical scientists are selected to design and deliver new technical solutions and innovations in healthcare
IBMS members Bala Sirigireddy and Uthman Adesina are amongst the new cohort of 138 entrepreneurs selected to join the NHS Clinical Entrepreneur programme.
This scheme is run annually by NHS England and supports NHS employees in their professional development to learn and develop new ideas in healthcare. The entrepreneurs will receive education and mentoring support from leading medical technology experts to help make their ideas take shape.
Bala Sirigireddy, Head of Haematology and Blood Transfusion at Homerton University Hospital Foundation Trust said:
"NHS England's support to this program is one of the huge influencing factors for why I applied to take part. This program provides a platform and ecosystem to try out some brilliant ideas which could have a massive positive impact on patients. This is also a fantastic opportunity to network & learn from like-minded entrepreneurs & industry experts.
Winning a place in the clinical entrepreneur Programme feels great, there is an outburst of new technologies such as Artificial intelligence (AI), Data science, Robotics, Internet of things (IOT), Cloud & Block chain. I am determined to apply as many of these technologies in healthcare to create a positive impact at national and international level."
Uthman Adesina, Advanced Specialist Biomedical Scientist, who specialises in Histocompatibility and Immunogenetics at NHS Blood and Transplant in Tooting Laboratory said:
"It is a real honour and privilege to have been selected as part of the first group of scientists accepted on to the Clinical Entrepreneur Programme.
I am looking forward to the new challenges I believe this programme will bring me within an environment I have limited experience of and is entirely different to that of my day to day work in NHS transplant laboratory.
I'm confident that the programme will provide me with the platform to meet, share my ideas, experiences, and compare practices with highly skilled and talented individuals for the benefit of the NHS. This will be an invaluable learning experience in my career development."
We offer warm congratulations to Uthman and Bala on this achievement and look forward to hearing about their experiences in this programme.
Back to news listing