IBMS members win at NHS Achievement awards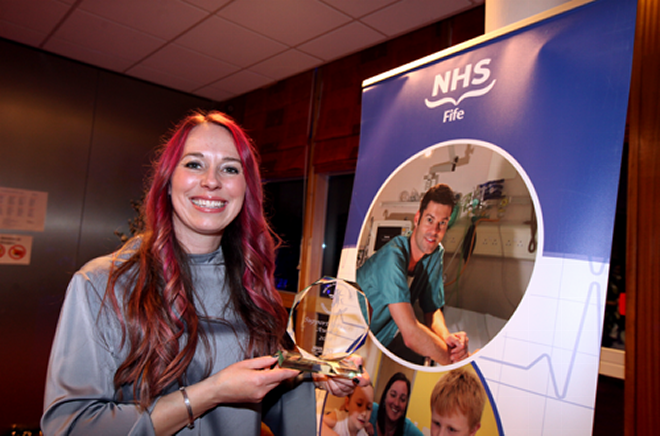 2 October 2018
The microbiology and emergency care team at NHS Fife won an award for their improvement to flu testing
Last week, NHS Fife celebrated their 2018 Achievement Awards, recognising the hard work and dedication of their staff members. Amongst the winners were IBMS Member Lisa Logan, a Senior Biomedical Scientist, and the microbiology and emergency care team at NHS Fife.
Lisa (seen below) won the NHS Support Services Award, which recognises excellence and celebrates the individuals and teams who demonstrate an exceptional work ethic.
IBMS members were also on the microbiology and emergency care team, which won the Top Team Award. This award recognises the teams which provide exceptional service and whose work makes a significant impact on services and patients.
With the severe wintry conditions earlier this year, hospitals experienced a rise in the number of flu cases, particularly in Scotland. Under the leadership of Dr Craig Ferguson, the microbiology and emergency team established an innovative rapid flu testing system at the Victoria Hospital in Kirkcaldy, which reduced the time taken to confirm flu cases from 24 hours to 30 minutes.
The team verified and implemented the new system and trained staff members on its use in only seven days. Results were available in 30 minutes, making it possible for flu and RSV to be diagnosed and treated in real time. As a result, clinical staff were able to facilitate patient flow through the hospital during a period of intense activity by reducing admissions, discharging earlier (where appropriate) and making better use of limited isolation facilities.
Team leader Dr Craig Ferguson, commented,
" I am immensely proud of what the microbiology and acute admissions teams achieved in such a short time frame. A lot of work in the NHS goes on behind the scenes to improve the patient experience and it is really gratifying when this hard work and commitment is acknowledged."
NHS Fife Chair, Tricia Marwick, added,
"The NHS Fife Achievement Awards are a great opportunity to celebrate the outstanding work and commitment of our staff. We are lucky to have so much talent in Departments across Fife and it is humbling to hear the extraordinary lengths our staff will go to, to deliver the very best services and care."
The team's efforts have been further recognised by winning an Advancing Healthcare Award (AHA) earlier this year.
The IBMS congratulates all the award winners and wishes them the very best on being recognised for their accomplishments.
To see more about the award winners, you can visit the achievement awards website or follow the hashtags #loveyournhsfife #nhsfifeawards on Twitter.
Back to news listing