Important Qualification Updates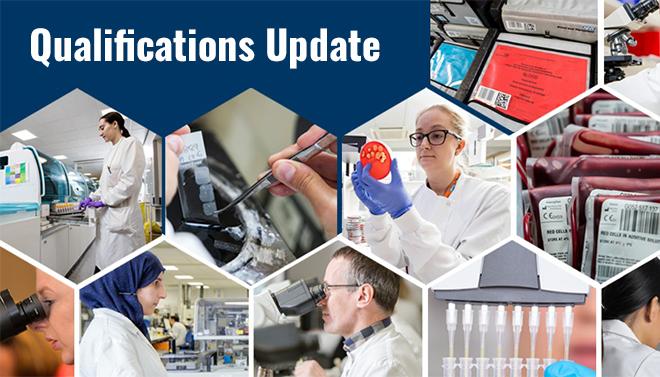 19 November 2018
Three important updates from the Education Department at the IBMS


Version 3 Registration Portfolio expiry date
This is just a gentle reminder that the expiry date on live editions of Version 3 of the registration portfolio is December 2018. A search of our records suggests that there may be a very significant number of these portfolios which have not yet been verified so, in order to control the requests and to prevent anyone with a version 4 portfolio being disadvantaged, we are implementing the following measures:
If you are planning for your version 3 portfolio to be verified we are able to accept requests for verification until the end of December 2018. Please note, as we anticipate a large volume of these requests it may take longer than usual for us to allocate a verifier and for that verification to take place.
If you have a V3 portfolio but are not in a position to register your request for verification by the end of 2018 then you may apply for a V4 copy of the portfolio, at a cost of £60. If this is the case, you can transfer 30 pieces of your evidence prepared for the V3 to be showcased as the 30 pieces of evidence (3 per module) for V4.
If you have a V3 portfolio that is currently dormant or will definitely not be completed we ask that you make us aware so that we can amend our records.


Rises in costs of our qualifications
We would like to offer you the chance to take advantage of the current price of all of our qualifications as they will be rising by 4% in January 2019. A full list will be available soon.


Health and character assessment
As you may be aware, earlier in the year we implemented a more robust checking of character (criminal conviction checks) in order for us to meet the Health and Care Professions Council (HCPC) Standards of Education and Training (SET 2.4.- The admissions process must assess the suitability of applicants, including criminal conviction checks), as an education provider for the HCPC.
At the time that the decision was made, the perception was that requiring employers to confirm DBS checks had taken place would be the most appropriate way forward; however, we received feedback from a small number of employers who felt that this was not feasible for them. We presented this feedback to the Institute's Education and Professional Standards Committee and committee members felt that a declaration by the candidate would be appropriate. This will trigger a triage at the point of application for the registration portfolio, where anyone who feels that they have something to declare about their health or character, and which may affect their eligibility to register, could be directed towards the HCPC at that stage for further guidance.
The E&PSC members also agreed that a second declaration must take place at the point of request for verification to acknowledge if any changes to status had taken place, once again offering the opportunity to direct candidates to the HCPC for advice.
We believe that this will be a more manageable approach that firmly places the responsibility onto the candidate to declare rather than the employer to check. The Registration Portfolio application form will now additionally include a declaration to be signed by the candidate as well as the information and signature provided by the training officer/ laboratory manager.
For further information and guidance on the HCPC consideration of health and character can be found here:
http://www.hcpc-uk.org/assets/documents/10003A89Guidanceonhealthandcharacter.pdf
Back to news listing