Launching my biomedical science career, Danny Gaskin's story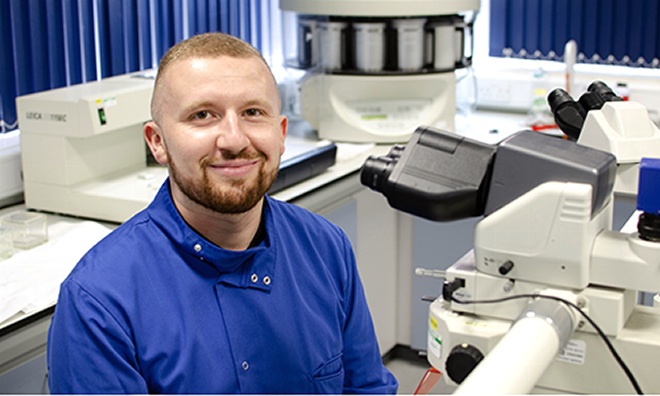 10 August 2018
From starting work in a doctors' surgery to becoming a biomedical scientist, Danny Gaskin shares his journey
The path to becoming a biomedical scientist isn't always a straight line. Sometimes a scientist might not find their passion right away, and sometimes it takes a little inspiration and determination to get going. In a series of interviews, IBMS member Danny Gaskin discusses how he fulfilled his dream to become a biomedical scientist.
Inspiration
Danny said,
"When I left school, I worked as a receptionist in a doctors' surgery. The junior doctors and student nurses there really inspired me - it was here that I decided to save up to go back to college and try to improve my career prospects. Getting back into education after having not done well at school though was tough, I only had a D in my maths and science GCSEs. So I had to save up to take myself back to college to position myself to meet the criteria for college and university. Thankfully, through clearing I got a place at the University of Salford!
Working Monday to Friday full-time on placement with no salary, and then working all day Saturday and Sunday to earn money to pay my rent, bills and living costs was very tough. It meant I was working seven days a week whilst I trained. Obviously that comes with lots of social life sacrifices, but it was worth it.
I completed my first two years in nursing, but during a placement in haematology I became very interested in the specialism, particularly in cancers of the blood. I started to study around the area and I soon realised that a career in biomedicine was more suited to my interests – that's when I made the move into biomedical science."
How a LinkedIn message began a mentorship
During his studies, Danny contacted Biomedical Scientist Stephen McDonald about his placement. Stephen shared his recollection of how with a single LinkedIn message, their mentoring relationship began:
"Danny first messaged me on LinkedIn back in May 2016. He was about to go on placement as part of his degree at the University of Salford. I replied with some general advice and encouraged him to keep in touch. He contacted me soon after and shared that he had successfully secured a laboratory placement at Manchester Royal Infirmary (MRI).
We kept in contact and I actually ended up at MRI to verify Danny's portfolio at the end of the placement year. Even then the amount of development and progression he'd experienced was clear, from that initial message to someone having now spent a year in the 'real' pathology lab."
Collegiate success
Danny's hard work at university began to pay off. Earlier this year he was nominated by the IBMS for the International Federation of Biomedical Laboratory Scientists (IFBLS)' student award, the only UK student to earn this honour.
Dr Lucy Smyth, Lecturer and Biomedical Science Programme Leader at the University of Salford said,
"Danny has had a tremendous journey during his studies, undertaking a number of collegiate roles above and beyond the standard role as a student. He became a committee member of the University of Salford Biomedicine Society and established the IBMS affiliate society, the Biomedical Science Careers Group."
Stephen added,
"Danny's creation of this society helped establish vital links between the university and NHS employers. Danny also organised a very informative careers event in March last year and we have since worked together with the aim of securing more laboratory placements for students. Danny has handed over the reins of the group now, but I am confident it will go from strength to strength; raising awareness of biomedical science and the value of IBMS accredited degree programmes."
Danny earned a first class degree in biomedical science at the University of Salford and was awarded the Salford Student Success Gold Award for demonstrating professionalism and employability to his peers. He was also awarded the Exceptional Performance on a Biomedicine Programme Prize for 2018, awarded by Dean of School of Environment and Life Sciences at the University of Salford.
Life after graduation
Lucy said,
"As his programme leader, I couldn't be more proud of Danny. He has shown utmost commitment and maturity throughout his studies at Salford, he is a proactive collaborator with his study peers, university staff and the professional body for biomedical science (IBMS). If he shows similar exceptional commitment in his career he will be a credit to the NHS and his chosen profession."
Stephen added,
"It's only been two years since I first met Danny and I feel like we have been on a really exciting mentoring journey. But it's only just the beginning, on 4th July Danny successfully interviewed for a Biomedical Scientist post in Blood Sciences at University Hospitals of Morecambe Bay NHS Foundation Trust and will be coming to work with us soon.
I feel we're very lucky to have him. His passion for the IBMS and biomedical science, particularly haematology and transfusion, will be a very valuable asset. Fate is a wonderful thing- I was working in the lab in Northern Ireland when Danny first messaged from Manchester and possibly by the time you're reading this we'll be working together in Barrow in Furness. The power of networking!"
We wish Danny the very best in his promising career in biomedical science. If you want to share your journey into biomedical science for a feature, contact us at website@ibms.org.
From 13 August, Danny will be curating the NHS Twitter account for one week and sharing his experience. You can follow him online at @NHS.
Back to news listing