Mary MacDonald Prize for Achievement Winners 2023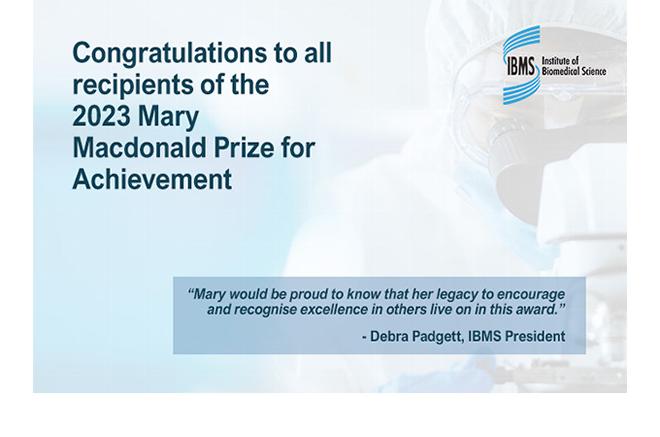 31 March 2023
Congratulations to all recipients of the 2023 Mary Macdonald Prize for Achievement.
The Mary Macdonald Prize for Achievement and Bursary were established in memory of former IBMS Council member, Mary Macdonald. Mary is remembered as an outstanding professional, colleague and mentor, who began her career as a laboratory support worker and was keen to encourage and recognise excellence in others working in similar roles.
The Bursary aims to support biomedical science staff to undertake the IBMS Certificate of Achievement Part I or II qualification. It covers the cost of the Part I or II portfolio (£137) and IBMS Associate membership fees for the year.
Congratulations to William Nicholson and Richard Amies, the winners of this year's Mary Macdonald Prize for Achievement 2023!
Debra Padgett, IBMS President, took part in the judging panel to determine this year's winners.
She comments:
"I was honoured to be asked to judge the entries for the Mary Macdonald Bursary this year. It was fantastic to read about the ambitions of those starting out on their IBMS qualification journey to develop themselves within our profession.
Mary would be proud to know that her legacy to encourage and recognise excellence in others live on in this award and I'm certain our worthy winners will see the benefit of their endeavours but also share their learning with the teams around them for the benefit of the patients they serve.
Mary was a strong advocate for laboratory support workers and it's great to see her enthusiasm shine through in this year's entries."
The two training officers, Tina Drury and Luke Hughes, who recommended Will Nicholson and Richard Amies for the Bursary, respectively, comment on what these achievements mean to them:
Tina Drury:
"Will started in Pathology as a Band 2 Pathology Support Worker in July 2019, working within Specimen Reception. During the pandemic, he was seconded into Microbiology as a Band 3 to help with Covid testing, with his post becoming substantive shortly after that. After completing the IBMS CoA Part 1, which was also due to winning a Mary MacDonald Bursary, he was successful in his application to be a Band 4, Associate Practitioner.
Will's background is not in science, in fact, he has a degree in Media Communications with Film and Screen Studies, and found he gained a lot of background knowledge completing the Part 1. He has now realised that he would like to take his Microbiology career further and become a biomedical scientist. He applied for this year's Bursary and was lucky enough to be successful again. He is now working through his Part 2 before starting the Biomedical Science Degree Apprenticeship at Portsmouth University in September.
Both Will and myself, as the Departmental Training Lead, are very grateful to the IBMS and Mary MacDonald Bursary for the opportunity to make this journey possible, especially in times of cost-saving measures."
Luke Hughes:
"Thank you to the IBMS for awarding the Mary MacDonald Bursary to Richard. The award means we can now make investments with the finite training resources we have available to continue the development of skills in our team. Making use of such bursaries is vitally important when training resources are subject to many conflicting needs, aimed at safeguarding the future of the biomedical science workforce - particularly as more focus has been directed towards the need to 'grow our own' in response recruitment and retention challenges that most of us are experiencing."
Back to news listing