Mary Macdonald Congress Bursary 2023 winner announced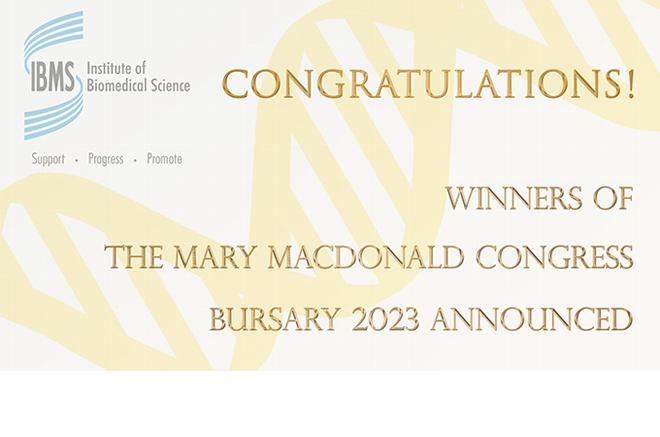 4 May 2023
Congratulations to recipients of our Mary Macdonald Congress Bursary 2023
Helping more members attend IBMS Congress

Established in 2019 in memory of IBMS Council member Mary Macdonald, the award sponsors 20 free places for non-HCPC registered members to attend the Biomedical Support Staff programme at IBMS Congress.
Successful applicants also receive £60.00 towards travelling expenses.
Mary is remembered as an outstanding professional, colleague and mentor, who began her career as a laboratory support worker and was keen to encourage and recognise excellence in others working in similar roles. Mary made a significant contribution to the IBMS throughout her life, serving as an IBMS Council member and on a number of IBMS Committees.
This year's winner is: Mr Santhosh Kumar Karuppasamy (Biomedical Support Worker, Bedford Hospital Trust, Bedford, UK).
Commenting on the bursary win, Santhosh said:
"I started my biomedical lab role after a short career break in science, and I am so excited as it's my first Congress after joining as a member of the IBMS. I am so glad to receive this award - the training programme will really enhance my knowledge and support my BMS career. I am so grateful that I can be a part of the IBMS family."
Debra Padgett, IBMS President, adds:
"The Mary Macdonald bursary provides a great opportunity for biomedical support staff to connect with other professionals at Congress. Congratulations to Santhosh, winner of the 2023 Congress bursary, it is very well deserved!"
Back to news listing