Peter Hodges on lab based pregnancy tests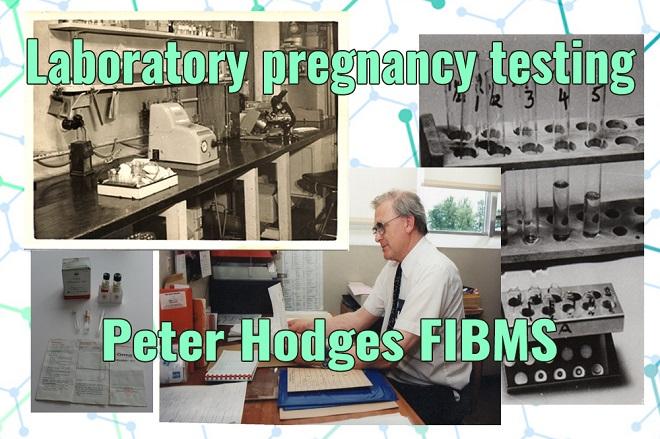 20 February 2019
Peter Hodges remembers the mid-50s, when he was doing pregnancy testing in the laboratory
In the lead up to IBMS History Week, we asked our members if anybody could remember the days when pregnancy tests were done in the laboratories. We would like to thank lifelong member and retired Fellow, Peter Hodges FIBMS, who got back to us with some photos and his account:

After completing National Service, I was a BMS in immunology at the Chelmsford Group Hospitals from 1954 up until I retired in 1999.

The Aschheim-Zondek test was the first in-house laboratory test for pregnancy that we performed in Chelmsford. For the Hogben pregnancy test with the toads, they had to be sent to Shrodells Hospital in Watford.

We used to obtain 6 week old female virgin mice from Tucks and often saw boxes of mice at Chelmsford railway station on our way to classes at the Royal London Hospital. Early morning samples were required from the women and they were detoxified on Mondays. The mice were given 1ml urine subcutaneously twice daily on Wednesday, Thursday and Friday. A post-mortem was carried out the following Monday.

The main reason the test was requested was for the detection of hydatid moles. I remember the pathology laboratory staff wanted the animals to be replaced. We produced our own complement and rabbit anti-sheep for the Wasserman VD Test. The first rep to demonstrate a pregnancy test at Chelmsford was from Ortho. It was based on Wide & Gemzill's work, but it was not successful. Firstly, the pathologist used his own male urine as the negative control and secondly the G force of our centrifuges could not be controlled sufficiently.
For a long time, we successfully used the Organon product called Pregnosticon. It was very good but subject to false results if not allowed to react in a vibration free room. When the tubes were kept in a locked storeroom there was no problem. This test was followed by the 'tub' from Hybidtech: originally developed as a hepatitis test for the army with a elisa colour end point. This was more reliable.
The laboratory has not performed pregnancy tests for about four years now.
Back to news listing