IBMS member installed as Honorary Fellow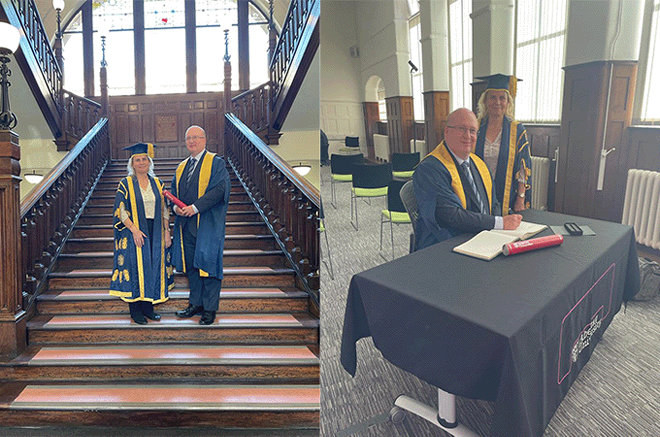 13 September 2023
Earlier this month, IBMS member Paul Mathieson (FIBMS) was installed as an Honorary Fellow of the University of Abertay.
Organised by University executives, the fellowship event at the Old College, Abertay University in Dundee was held to recognise the 25 years of support provided by Paul to our profession. Paul has offered invaluable input to Biomedical Sciences degree courses, from the delivery of lectures in Blood Transfusion, to his help with implementing the University's placement programme.
Paul graduated from Abertay in 1994 with a BSc (Hons) in Biotechnology, and went straight on to work as a trainee Medical Laboratory Scientific Officer (MLSO) at the Scottish National Blood Transfusion Service at Ninewells Hospital. He first became HCPC-registered in 1996 and started lecturing in September 1998 just as he'd completed his MSc.
Paul comments, "I am completely humbled to receive such a prestigious award from the University where my career in biomedical science started. I cannot stress enough the importance of the Biomedical Sciences course, as so many of these young biomedical scientists go on to support healthcare in Dundee and, indeed, UK wide."
Congratulations to Paul and thank you to all of our other members like him, whose vital contributions go a long way to developing and promoting the role of biomedical science in healthcare.
If you would like to keep us up to date with similar events, a great way to get involved is to post to our social media channels: Facebook.com/BiomedicalScience or Twitter.com/IBMScience
Back to news listing