Round-up of National Pathology Week 2021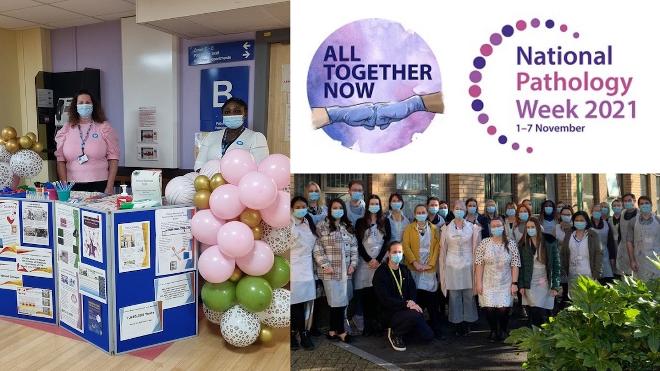 18 November 2021
A look at how some of our members marked National Pathology Week from 1-7 November, 2021.
Swansea Bay University Health Board
Pathology staff at Morriston Hospital, Singleton Hospital, Neath Porth Talbot Hospital and Princess of Wales Hospital promoted pathology services and biomedical science at their respected hospitals throughout the week with a series of engagement events – all under the week's theme, #AllTogetherNow.
#NationalPathologyWeek @princess of Wales Hospital. @IBMScience @RCPath @SBUPathology pic.twitter.com/YzTugwZ3Pw

— Kim Lewis (@KimChrisLewis) November 2, 2021
Display stands were put up in front of pathology services, where staff were able to answer any questions from other Hospital staff as well as patients. The stands were visited by lots of different groups, including- medical students studying at Cardiff University, parents who were curious about career journeys in pathology on behalf of their children, and visitors wanting to understand what we do with their bloods after collection.
Day 4 of #nationalpathologyweek2021 . Some of our Pathology staff came out to support Harvey's Gang and Blood bike Wales @Princess of Wales Hospital. @IBMScience @GangHarveys @SBUPathology @RCPath pic.twitter.com/qst5T9VTgz

— Kim Lewis (@KimChrisLewis) November 4, 2021
today our staff went on a walk round our hospital sites to raise funds for @Laird_Admiral and @BloodBikesWales pic.twitter.com/5NlZLi2f1r

— Swansea Bay UHB Pathology (@SBUPathology) November 4, 2021
Pathology staff also held a Harvey's Gang tour, where a young boy was taken around the laboratory and shown his blood films and other laboratory tests. After the tour, Pathology staff across all sites wore plastic aprons and marched around the Hospital in support of Harvey's Gang and Blood Bike. With this hospital march, the department was able to raise money to support and promote Harvey's Gang and Blood Bike Wales.
"After the event there was a huge boost of morale in each department. Staff particularly liked the walk around the hospital and the departmental Kahoot! quiz. In effort to promote staff well-being, the management have agreed to routine departmental engagement such as these to further support staff well-being. Overall, this was a successful event with positive outcomes." Kimberly Lewis, Specialist Biomedical Scientist in Clinical Biochemistry at Princess of Wales Hospital
To finish off the week, Swansea Bay UHB held a departmental quiz. Staff formed teams within their department (i.e. biochemistry, haematology, microbiology and cellular pathology). Biochemistry took the win!
And the winners are …. biochemistry at POW! Trophy and prizes to be delivered next week. Thank you to all who have supported us this week #NationalPathologyWeek2021 #AllTogetherNow @RCPath @IBMScience @Rutharoo15 @RhodDavies1 @ChrissieMoz @maggsheidi pic.twitter.com/GnxXxntGVL

— Swansea Bay UHB Pathology (@SBUPathology) November 5, 2021
Christie Pathology Partnership

To mark National Pathology Week, IBMS Council Member Tahmina Hussain organised a week of lunchtime pathology featuring staff at The Christie Pathology Partners (Manchester).
Each day they delivered a lunchtime session on a different discipline in Pathology - covering Blood Sciences Specimen Reception, a Histology lab tour, Cytogenetics, Mortuary and Bereavement Suite and the Blood Transfusion laboratory.
"These sessions gave a really interesting insight into Pathology and the roles each and every one of us plays in the patient care pathway. Often, we are so busy working in our own departments, we are not aware of what the role of our team members are in different departments so this was a really good way of getting 'All together now', meeting other team members and learning something new! Due to the success of these sessions, many of the staff members who were not able to attend have requested a repeat!" Tahmina Hussain Specialist Biomedical Scientist in Haematology & Blood Transfusion at The Christie Pathology Partnership
Support from IBMS Chief Executive David Wells
As IBMS Chief Executive and former Head of Pathology at NHS England, David Wells shared a message of support for National Pathology Week on social media.
Whatever you have done to celebrate #nationalpathologyweek thank you! @IBMScience @RCPath pic.twitter.com/uxGEQCfl7e

— David Wells (@DavidRWells) November 5, 2021
Thank you to everyone across the profession who came together to raise awareness and celebrate National Pathology Week 2021!
Back to news listing