Sharing member voices - Bamidele Farinre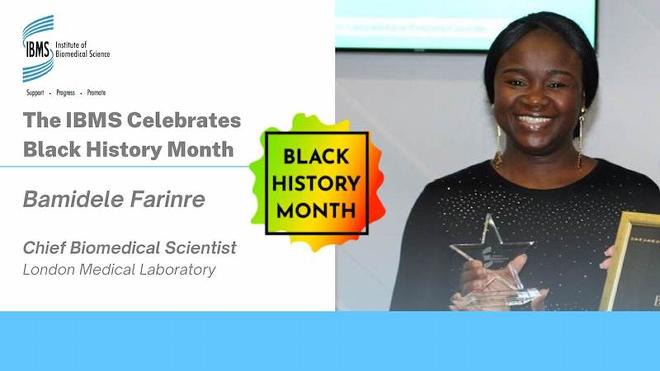 28 October 2021
The IBMS celebrates our black members & all they contribute to the profession this Black History Month - highlighting their voices & achievements throughout the month of October & beyond.
I am a HCPC registered Biomedical Scientist with the IBMS Higher Specialist Diploma in Virology and MSc in Clinical Microbiology. I currently work as a Scientific Lead (Chief Biomedical) at the London Medical Laboratory. In my role, I manage and supervise teams of laboratory technicians and support staff within an infectious sciences and virology laboratory.
As a lead scientist, I play a crucial role in encouraging the team to reach goals, all while implementing the laboratory's safety policies and regulations to maintain a safe and productive work environment. I'm an exceptional and diverse leader who uses my talents including my expertise, knowledge and experience within my chosen profession to the fullest by contributing to my community and society at large - especially within STEM and the field of biomedical science (laboratory medicine, pathology).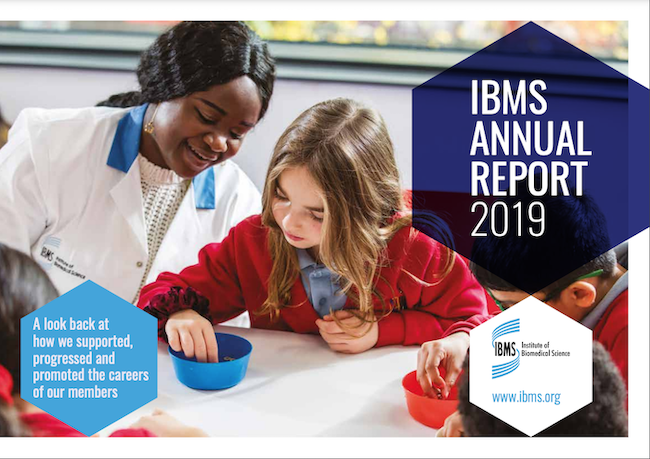 I lead the operational delivery team for Covid-19 testing services to support the UK response to the pandemic. My leadership skill-set, expertise and knowledge in molecular virology have been instrumental in leading, designing and implementing the June Almeida Lab based Waterloo, London. This was a collaborative project between Kings College London and Viapath Analytics LLP. For this project, I have a been able to mobilise a workforce team of 100 within a period of few months and deploy them for field work in response to COVID-19 pandemic.
One achievement I am most proud of in my career is my appointment to the IBMS Virology Advisory Panel group. This panel plays an important role in the work of the IBMS, including setting the Scientific programmes for Congress and updating the IBMS qualifications including the HSD. I'm involved in advising the IBMS on quality, training, and safety. I also represent the IBMS on national committees and work with the IBMS education team to help develop professional qualifications, set exam papers, and help organise the scientific lecture programme for IBMS Congress.
As a BAME woman in a leadership position, I have faced a lot of challenges in my career journey to date. Not having a mentor that I could relate to made it difficult to navigate my career path and address situations that might not be inherently easy for me – for example, overall work-life balance. As a professional working mother of two, I've had the first-hand experience of overcoming the challenges associated with returning to work at various stages in my career. I understand the associated difficulties with retaining, developing, and progressing female talent to leadership roles and I've strived to create awareness of the available support by becoming a role model to other women and inspiring them to continue believing in their leadership potential.
Within STEM disciplines, the feeling of exclusion has been attributed to a lack of acknowledgement of and education about the BAME contributions to scientific discoveries and development, along with the lack of BAME role models in senior academic and industrial positions. Additionally, lack of inclusion can lead to a loss of potential BAME scientists from the community. This loss of BAME individuals, at all career stages, must be addressed. It is crucial that more BAME students and professionals are encouraged and supported to pursue careers in STEM disciplines in order to increase diversity and help solve global challenges and shortages. To this end, I'm a mentor to junior staff members - especially trainees who are completing their IBMS certificate of competence. I have successfully mentored students in their professional training, who have gone on to be practicing registered healthcare scientists.
I strongly believe that STEM qualifications are relevant to todays' workforce, and I actively advocate for this. Among other things, I am a WISE member, STEM ambassador, volunteer public engagement professional for InspiringtheFuture, IBMS continuous professional development (CPD) officer and journal club presenter/organiser. These roles involve outreach activities, visiting primary and secondary schools and colleges across the UK to talk about my job, career, and the education route I took - inspiring students that science is "for them".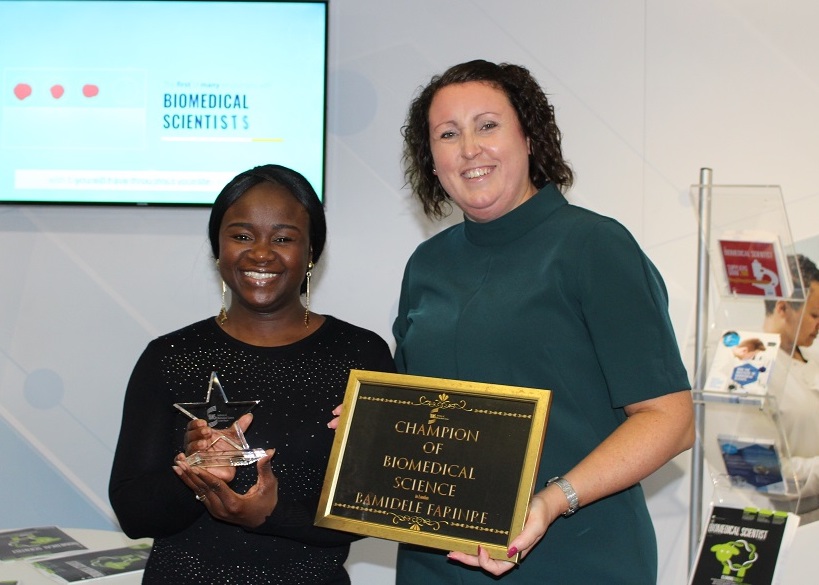 What are the biggest lessons you have learned in your career?
Being open to life lessons has helped me evolve and be more successful in both my professional and personal life - providing me with the tools I needed to grow as an individual. I have found that the most effective life lessons are the ones I've learnt through personal experiences.
One of the biggest lessons I have learnt in my career was striving to avoid stagnation. I believe that those who always strive to learn more and continue to progress through times of stagnation are those who succeed.
Another important lesson I've learned in my career is how valuable connections with other people are - this includes relationships with professional colleagues, friends and family members. Each relationship I've built adds another beam of support to what I'm building for myself.
Being able to remain positive and look at things with optimism is an invaluable life lesson. Throughout my career journey, I've taught myself to look on the positive rather than the negative, which has helped me turn negative situations around. The simple act of enjoying a project I do well or taking advantage of a free work lunch may seem small in the grand scheme of things but are ways in which I've looked on the bright side and remained positive. The more I improve my outlook, the less the small things affect me and the better I'm able to handle challenges in both my professional and personal life.
Bamidele Farinre
Chief Biomedical Scientist, London Medical Laboratory
Back to news listing