Shining the spotlight on rare diseases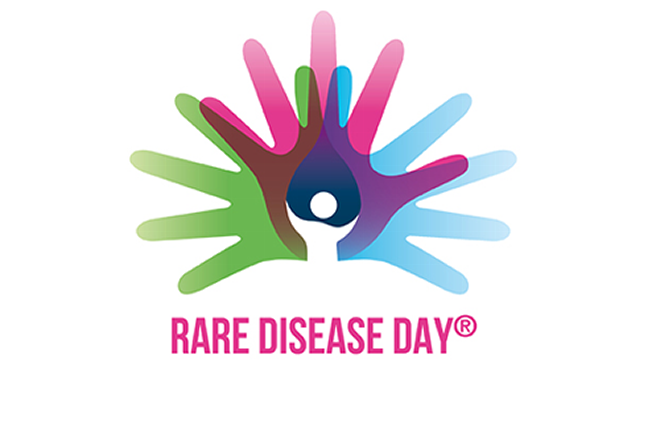 28 February 2018
Let's help raise awareness of rare diseases
28th February is Rare Disease Day; an international movement which gives hundreds of patient organisations around the world a platform to share their stories and hold events, raising awareness of rare diseases among decision makers, healthcare professionals, researchers and the general public.
It might seem a contradiction, but while rare diseases are rare - by definition affecting less than 1 in 2,000 people in Europe - rare disease patients are many.
The facts about rare diseases
There are more than 7,000 different rare diseases affecting tens of millions of people globally, be it physically, in their mental abilities, their behaviour or sensorial capacities.
The sheer number of different rare diseases and their relative infrequency is a major challenge to research, and the resulting lack of knowledge around each specific disease often results in delayed diagnoses, misdiagnoses or simply no diagnosis at all.
As many as 8,000 children born in Britain every year may currently be unable to benefit from a diagnosis, and about half of children referred to clinical genetics centres do not get diagnosed because there is not yet a definitive test that will give a clear answer.
For the majority of rare diseases there is no known cure, and few treatment options. The conditions are often chronic and life-threatening.
The key to raising public awareness
Research – fittingly the theme of this year's Rare Disease Day – is the key to changing this. The patient community is crying out for the support it needs from researchers to discover and diagnose these diseases and develop treatments and cures.
The UK is at the forefront of rare disease research and treatment, with an active biomedical research community within our Universities and the NHS working in partnership.
In 2013 The UK Strategy for Rare Diseases (2013) was published, and only last month England became the last of the four nations to publish its plans for implementation - including strengthening and incentivising research into rare diseases.
While some rare diseases are caused by infections or environmental factors, around 80% have identified genetic origins, involving one or several genes or chromosomal abnormalities, so the potential role of genomics medicine here is enormous.
UK leading on rare disease research
Again, the UK is leading the world in this area with the ambitious 100,000 Genomes Project, which is sequencing 100,000 genomes from 70,000 people, with a focus on patients with rare diseases, their families, and patients with cancer.
The Department of Health and Social Care, NHS England and Genomics England have just announced reaching the 50,000 whole human genome sequences landmark in this flagship project, which is leading the government's ambition to create a new genomic medicine service for the NHS and transform the way people are cared for.
Already it is providing answers where before there were none, with 20 to 25% of reports including 'potentially actionable' diagnoses, while the widespread adoption of whole genome sequencing (WGS) within the NHS provides further opportunities to substantially increase the speed of diagnosis for rare diseases.
Additionally, charities like Genetic Alliance UK have announced their involvement in the research project SOLVE-RD, which has earned €15 million for rare disease research.
Dr Jayne Spink, CEO of Genetic Alliance UK commented, "Most people may be aware that taken together, rare diseases affect around 1 in 17 people at some point during their lives- that's around 3.5 million people here in the UK.
Genetic Alliance UK is committed to working with and for the rare disease community, making sure that the needs and preferences of patients and families is the light that leads the way - for developments in policy, services and research."
Clearly much work is being done, and remains to be done, by the biomedical science community, to help provide answers – and hope - to the millions of families whose lives are affected by rare diseases.
For an in-depth look read the story of Neil, a biomedical scientist with Kallmann Syndrome. You can also follow the day's events online using the hashtag #RareDiseaseDay.
Back to news listing