STEM for Britain 2020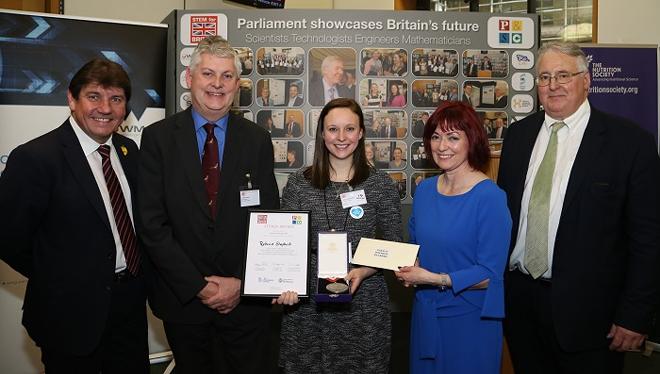 14 October 2019
STEM for Britain 2020 will take place in the Houses of Parliament on Monday 9th March during British Science Week
Applications are now open to early-career research scientists who wish to exhibit posters in Biological and Biomedical Sciences at STEM for Britain 2020. The IBMS is passionate about supporting research in biomedical science and has proudly sponsored these awards since 2012.

Sponsored by Stephen Metcalfe MP and hosted at the House of Commons, the STEM for Britain poster competition gives early career researchers in STEM fields the chance to showcase their work to politicians and guests.

STEM for Britain was created by Dr Eric Wharton, who wished to encourage a positive working relationship between early career scientists and their MPs, and to offer a platform for these researchers to promote their latest work in Parliament. The competition attracts over 500 entrants, of whom approximately one third are selected to present their work.

2019's Gold Award in the Biological and Biomedical Sciences category was presented to IBMS member Rebecca Shepherd from Lancaster Medical School, Lancaster University for her poster 'Exploring Adipocytes to Improve Bone Health'. After her win, Rebecca said:
It's amazing for my research to have been recognised with the gold medal. STEM for Britain was an excellent event. I had the opportunity to discuss my work with MPs, policy-makers and leaders of scientific bodies. It was a fun challenge explaining my work to those outside of biological sciences, and I enjoyed meeting other early-career researchers from different fields.

I presented a poster on my Anatomical Society-funded research which looks at the anatomical role of fat cells (adipocytes) in bone marrow and how these may contribute to the formation of anatomical structures in osteoarthritic bones.

Prior to starting my PhD, I worked as a biomedical scientist in cellular pathology. My background working in the NHS has provided a great foundation for my research.
The closing date for applications is Monday 2nd December.
Prizes will be awarded for the posters presented in each discipline which best communicate high level science, engineering or mathematics to a lay audience.

For more details and the application: http://www.setforbritain.org.uk/application.asp
Back to news listing