Sustainable UK diagnostics sector FORUM summary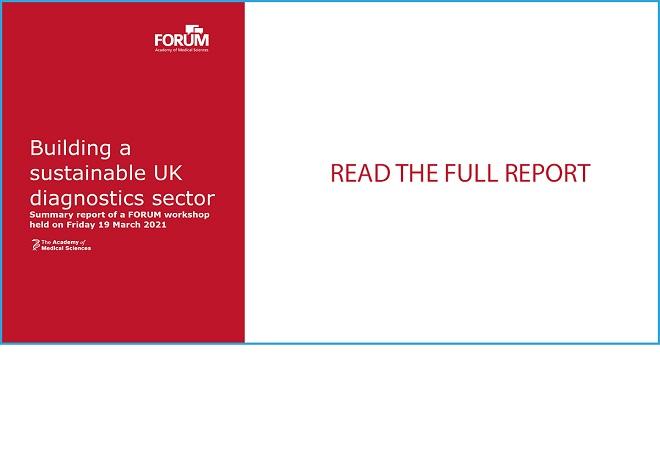 28 September 2021
A summary report on March 2021's workshop on 'Building a sustainable UK diagnostics sector'
The Academy of Medical Science has now published the summary report from March 2021's workshop on Building a sustainable UK diagnostics sector - which can be found and downloaded here.

The report makes a useful contribution to how we can learn from the COVID-19 pandemic for the benefit of the wider diagnostics sector.

The Academy of Medical Science are continuing to work on diagnostics as a priority topic, with their next event being a free, public digital FORUM symposium on Diagnostics: Building capacity and capability in the UK, taking place from 13.00 to 17.00 on Tuesday 12 October 2021.

The symposium will open with scene-setting keynotes from Professor Sharon Peacock CBE FMedSci, Director, COVID-19 Genomics UK Consortium, and Elaine Warburton, Founder & Non-Executive Director, QuantuMDx Group. The speakers will explore successful case studies of novel emerging technologies in a variety of diagnostic modalities, followed by a panel discussion discussing the challenges and opportunities around launching new diagnostic products into the healthcare system.

The Academy's FORUM programme brings together industry, academia and the NHS, and the charity, regulatory and wider healthcare sectors. It provides an independent platform to bring together leaders from across the life sciences sector to discuss scientific opportunities, technology trends, translational challenges and strategic choices in healthcare.
Back to news listing