The Cardiff Science Festival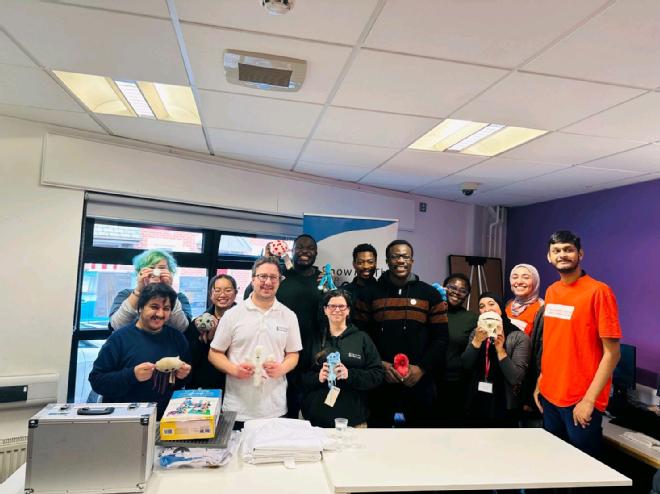 14 March 2023
Earlier this year, IBMS members took part in the Cardiff Science Festival.
On Saturday 18th February 2023, the Science Festival returned to Cardiff for its annual celebrations.
The aim this year was to reach out to a broad range of communities within the city, with larger events taking place at Cardiff University, and smaller activities being held in community centres. As normal, the IBMS were in attendance, at the Grangetown Hub, showcasing and explaining the role of Biomedical Science within healthcare, and highlighting the various disciplines within the field.
We were very fortunate this year to have had some Biomedical Science postgraduate students from Swansea University kindly volunteer their weekend to help. Adeyemi Adeniyi, Victor Chioma, David Oyekanmi & Motunrayo Awolola were all in attendance to try to motivate young people and get the community engaged and enthused about Biomedical Science, and explain the relevance of the role to the public & patients.
Our volunteers carried out various activities that helped them to explain interesting and fun anatomy facts, which in turn then led to group discussions about testing and diagnostics. The IBMS stand at the festival also had a 5 litre container for people to guess how much blood is in their body, which our volunteers used as a tool to talk about the structure of blood and how it is tested within the fields of biochemistry and haematology.
As well as this, we had a couple of beakers filled with still and sparkling water, where attendees were encouraged to try out using litmus paper, to observe any difference in acidity due to carbon dioxide levels, helping us to explain blood gases. There were also mock plates, demonstrating the various agars used when culturing different samples.
One of our volunteers, Motunrayo, commented:
" IBMS activities during the Cardiff Science Festival allowed several young people to engage with biomedical science experts face-to-face. We had the opportunity to present the importance of proper hand-washing, using cultured plates to show the various organisms that can be grown on human hands. The importance of eating a balanced diet was discussed through the use of 5 litre keg to demonstrate the required volume of blood needed for the body system to function properly. The estimated length of the human intestine was shown using a long rope. All of these presentations captured the attention of young people in particular at the Festival, and we hope to have inspired a new generation of budding scientists."
It was a very busy but very fun day, with so much interaction for those who attended. The day was hugely positive, allowing us to showcase the vital role of biomedical science within the healthcare system.
Adeyemi, another volunteer, stated:
" I have always believed in the importance of educating the next generation. I was so honoured and proud to be able to impact, share my knowledge and encourage a future generation of scientists at the Cardiff Science Festival this year."
It's well documented that those who don't engage in STEM subjects at school usually find it difficult to see the relevance of the subject, and how it impacts them in real life. We hope that attending festivals like this will help us to break down barriers and stereotypes, and help to introduce the Biomedical Science field to people who may not otherwise be aware of its importance for public health.
Back to news listing