HCPC registration renewal deadline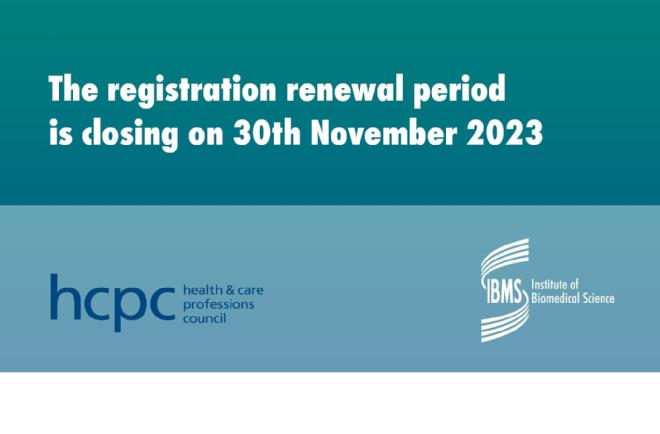 7 November 2023
The registration renewal period for biomedical scientists with the Health and Care Professions Council (HCPC) is closing soon. The deadline is 30 November 2023.
The renewal window for your Health and Care Professions Council (HCPC) registration as a registered biomedical scientist is closing on 30 November 2023.
It is essential that you renew your registration successfully and on time, so that you can continue to practice as a biomedical scientist for the next two-year cycle.
We can confirm that for biomedical scientists, the renewal fee will remain at £98.12 per year for the duration of this renewal window.
To be prepared ahead of your renewal, we advise you to:
Make sure your email address and contact details are correct in advance - you can update them via your HCPC online account
Set a reminder and don't leave it to the last minute - you can renew via your HCPC online account as soon as the window opens on 1 September 2023
For more information about the renewal process for biomedical scientists, please visit the HCPC website >>
Is your CPD up to date?
Biomedical scientists renewing their professional registration are required to demonstrate that they have continued to meet the HCPC's standards of practice, including CPD.
Our CPD scheme is designed to help our members meet the HCPC's requirements to maintain their fitness to practice.
In order to maintain HCPC registration, biomedical scientists must keep an updated and accurate record of their CPD activities, demonstrate that their activities are varied and relevant to their current and future practice, explain how their CPD has contributed to their quality of practice and service delivery, and describe how their CPD benefits the service user.
To meet HCPC and Science Council CPD standards, we believe that IBMS members should write reflective practice for all CPD activities in order to display their learning and development. For more information, please read the IBMS guide to Reflective Practice.
Back to news listing