The IBMS monthly statement - May 2022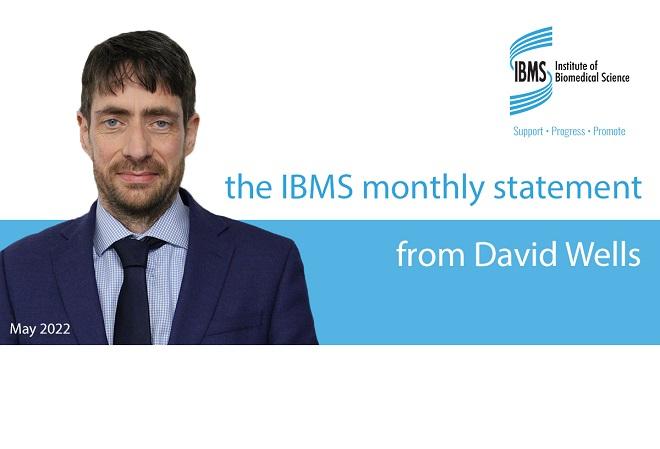 3 May 2022
David Wells, Chief Executive of the IBMS, on the Lighthouse Laboratory legacy and the implications of their closure
The majority of the COVID-19 mass testing centres, which the media called the "Lighthouse Laboratories", are now closing or closed. The capacity is no longer required since general access to free COVID-19 testing has ceased. However you view this, the loss of the expertise and infrastructure from the country's pandemic resilience may be something we look back as a mistake without a firm commitment on what should happen in future pandemics.

When the mass testing centres were first being set up, we supported our members by repeatedly informing and cautioning the government and media that quality matters and that only high-quality staff can deliver high-quality services – but our position was not fully acknowledged until standards had been allowed to slip.

After the testing suspension in Wolverhampton, our voice was heard, our advice sought and HCPC-registered biomedical and clinical scientists were seen to be increasingly involved in ensuring the delivery of high-quality COVID-19 testing in all of the mass testing centres.

Now that most of the centres are closed, it is important that we do not lose the skills and expertise of those HCPC registered scientists who oversaw such an unprecedented healthcare project. They will be looking for new roles and it is important that the UK government enables our services to retain their expertise. We will need them in the event of any future pandemic, and we need them now to help with the elective care backlog.

Due to the nature of the Lighthouse Laboratories' very visible successes and failures, the general public came to understand quite a bit more about our profession's role in healthcare – in particular, about how the biomedical science profession's quality management, technical expertise and high professional standards can (and do) offer patients peace of mind.

The scale and speed at which the testing centres were built and operational was impressive, but there was never any excuse for the lack of professional oversight. From the outset, we were there with all the help and advice that could ever be needed.

In the event of any future pandemic, the government must involve us and enlist our members' knowledge and expertise immediately. We have raised all of this, and every point we raised throughout the pandemic, in our response to the Terms of Reference for the Public Inquiry. The times of ignoring the experts must be relegated to the past.
Back to news listing