Our new website - launching this year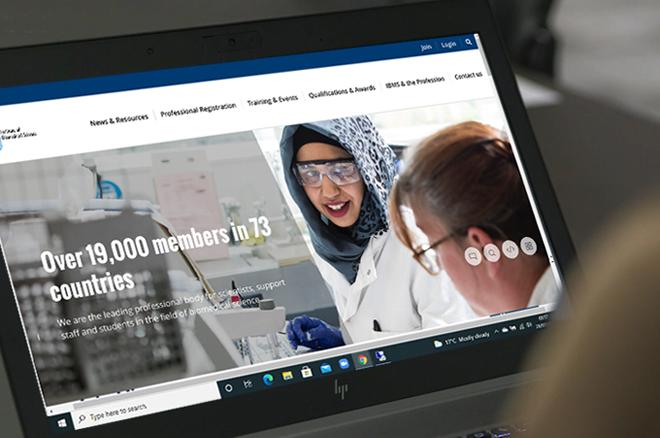 12 August 2022
Working with Pixl8, our new website partner, the new IBMS site will deliver a wide range of resources, training and events aimed at members.
Update 12th August 2022
We wish to apologise for the delay to the launch of the new IBMS website. The integration with our member database is complex and taking longer than anticipated. For now, please keep using our current CPD system (and our JBLs).

When we do switch to the new website your CPD record will not be brought across - so you will need to download your list of activities and evidence to date. You will then need to upload only your current CPD activities/evidence onto the new system when it goes live.

However, you will be notified via email and given plenty of time before you need to take any action.
About the new site
Using a user-centred design with intuitive navigation, the site will include streamlined renewals and give members more access to update their data records.
IBMS members will be able to log their training and maintain records online using a new CPD system, whilst also connecting to an eLearning system - opening up learning opportunities for more of our members.
Other innovative features for members will include:
Managing your data and your membership account with more ease to update personal information and preferences


Tailored content based on your discipline or career


Greater access to more content from The Biomedical Scientist and British Journal of Biomedical Science.


Get ready for the change
If you have an active IBMS CPD diploma record
You will need to:
Download and store your CPD record. Your My CPD history and evidence files will not be transferred to the new website.
Login to My CPD and save your activities using the PDF or CSV button under CPD history.
To save any files attached as evidence, you can download them by editing the activity and then selecting the file. This will automatically download the file to your device.
Please note
If you want a record of your past diplomas, you must download and save it from your records.
If you are part way through an IBMS CPD diploma
If you are unable to reach 24 activities prior to the switch over of the IBMS CPD system, please download the activities you have added so far to the active diploma (see steps above).
Once the new CPD system is in place you will be able to start logging your CPD again.
When you have completed the remaining activities on the new system to reach 24 activities, you can contact cpd@ibms.org to validate and issue a certificate for the diploma.
Journal Based Learning (JBL)
JBLs can still be taken on our current site up until 19th June. Once the new site is live JBLs will be able to be completed on the new My CPD system.
Until we tell you the new timescales, keep logging as usual
There's no need to stop logging your CPD activity. We won't close the current platform until we've notified all members.
Further information
Back to news listing