IBMSPOD - Episode 10
Special on Sustainability in the lab with Martin Farley and Sheri Scott
Download as vCalendar (for Microsoft Outlook etc.)
Import event to your Google Calendar
5th August 2021
Venue: Online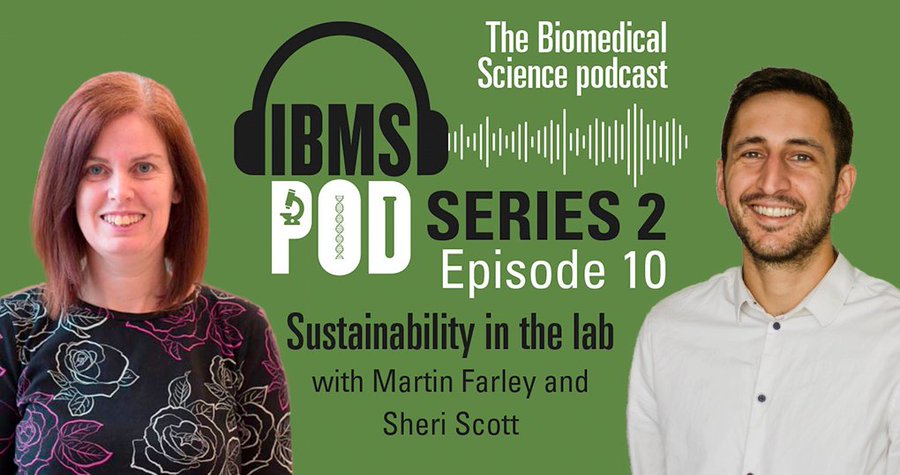 With COP26 only a few years away, it's increasingly important to address the sustainability and environmental impacts of our laboratories.
In August's episode Sustainability Labs Advisor for UCL and King's, Martin Farley talks to us about sustainability in the lab and the work he has done setting up LEAF (Laboratory Efficiency Assessment Framework) to help prioritise environmentally conscious laboratory procedures. Martin was the UK's (and Europe's) first full-time sustainable laboratory specialist and was awarded the Green Gown in 2015 from the Sustainability Exchange.
Martin discusses how sustainable lab practices are good for both science and cost-saving and shares some top tips for making the lab more eco-friendly.
In August's LabLife, we caught up with IBMS Fellow Sheri Scott, a biochemist & senior lecturer in biomedical science at Nottingham Trent University. Sheri talked through the sustainability issues biomedical scientists are facing and what actions they can take to reduce their impact on the climate and environment. Sheri also talks about the benefits of becoming a verifier and assessor for IBMS qualifications.
Related events
More events
Other events