Behind the scenes at Queens Hospital Romford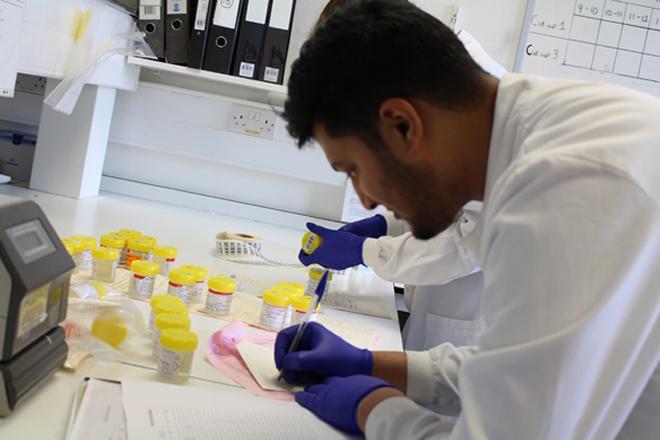 23 March 2017
As part of Healthcare Science Week, pathology labs opened their doors to the public
IBMS Communications Officer Erin Johnson recently visited Barking, Havering and Redbridge University Hospitals NHS Trust at Queens Hospital in Romford for a lab tour, as part of their Healthcare Science Week celebrations.
The tour covered different areas of healthcare science, beginning with the mortuary.
The mortuary
Visitors were treated to a talk by APT Kelly Lowe, who explained the care and dedicated attention patients receive when they enter. On the subject of death and dying, Kelly commented, "No one wants to talk about it, no one knows what to do about it. I just like to think I'm helping people."
Point of Care Testing (POCT)
The tour was then given information by a Point of Care Coordinator Lead Specialist BMS Clare Bailey, who explained and demonstrated the uses of different devices, including a urine analysis testing device, as well as a haemoglobin device and a blood gas machine. The coordinator also explained how to perform a quality control check, and highlighted the necessity of measuring lactate levels to watch out for sepsis.
Histology and cytology
Visitors learned about how histologists examine skin and gynaecological specimens, as well as gastrointestinal, genito-urinary, breast, head and neck specimens. These are processed before being embedded in wax.
Once the specimen has been processed and embedded, the paraffin blocks are taken into the lab where Associate Practitioners and Biomedical Scientists cut sections from the block. Each section is cut at 3 microns, floated out on a water bath, picked up onto a slide, then stained by and cover slipped.
The slide is then checked by an MLA to ensure the cut surface of the block matches the section on the side. The MLA will label the slide and perform all quality checks to ensure that the block, form and the slide match. Once the process is complete, the whole case and request form are given to the Biomedical Scientist who checks the slides microscopically. Then once all quality checks have been completed, the case is sent to the consultant pathologist who will make the diagnosis.
Haematology and blood transfusion
In Haematology the visitors were shown the analysers, their basic functions and what scientists do when the results are not as expected. They all really enjoyed examining some blood films including Malaria, Acute leukaemia and a Sickle cell disease patient.
In Blood Transfusion, Specialist Biomedical Scientist Rose Gad emphasised the importance of correct patient identification and the stringent checks which are performed to keep all patients safe. The visitors enjoyed seeing the blood fridge full of packed red cell units and the analysers used to obtain blood groups.
Biochemistry
Biomedical Scientist Stephan Barrett-Thomas and his colleagues in Biochemistry demonstrated the importance of sample quality and sample processing times. Visitors found the analysers and their functions fascinating, including the Immunolite, which the visitors found especially interesting with the use of micro magnetic particles to analyse their blood samples.
Following the tour, Lead Specialist Biomedical Scientist Michelle Martin commented,
"My favourite thing has been giving the public and staff a chance to see what happens behind the scenes. We are the hidden profession that saves lives.
No one knows what goes on in the lab, it's so important to let people know what's going on. It's so good we meet other different departments and communicate, we are all healthcare scientists.
I would definitely do this again next year. People are so passionate about their fields. We're here to engage with future scientists."
Specialist Biomedical Scientist Tracy Torres commented,
"I think the highlight for me personally during the Healthcare Science Week was inviting our Oncology and Haematology children up to the Haematology and Biochemistry labs to see how their own specimen that day was analysed.
It was lovely to put faces to the names we see so very often for transfusions and full blood counts. I think it's great for them and also the lab staff to understand there is much more to a blood sample than a name and number.
During these difficult times we are experiencing in the NHS labs, it felt good to promote what I feel so passionate about, this Healthcare Science week has really made me dig deep and stand proud to be a Biomedical Scientist."
Do you want to host a lab tour? Would you like to take part in volunteer activities? See our public engagement page for more information.
If you plan to participate in an event and need help promoting, contact pe@ibms.org.
Back to news listing