Healthcare Science Week 2019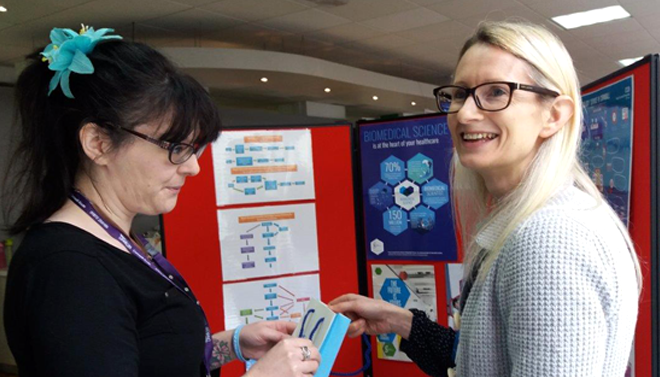 18 March 2019
Our members promoted biomedical science this week
This Healthcare Science and British Science Week, many of our members celebrated and showcased the best aspects of science careers to the public. Here's what some of our members got up to:
Andrew Dean and his colleague Megan took part in a 'Careers in Health' fair, organised by the School of Nursing and Health Sciences, University of Dundee and Developing the Young Workforce (Dundee and Angus). Andrew said,
"This was an event to showcase careers in the NHS for Secondary school children, including working in a pathology lab.
Megan Kitching, another Trainee Clinical Scientist and I prepared and set up a stall showcasing a career in a pathology laboratory. Careers information was kindly supplied by the Institute of Biomedical Science and the Royal College of Pathologists. We provided a demonstration on two blood films (leukaemia and malaria) and a urine dip-stick demonstration for glucosuria (diluted apple juice)."
Hayley Pincott and Daniel Morse attended an event at Coed Glas Primary School. Hayley reported back:
"We were invited along as part of Year 6 topic "Skin Deep". We had a few activities set up to help demonstrate, and explain microorganisms, like the hand hygiene activity. This activity is always popular and it's a great way to highlight correct hand washing technique and also for us it's an ideal opportunity to discuss infection control.
It was a fun and great day for us, especially when the teachers told us that they had learnt something from out visit. It's always rewarding when you get a class full of "Yes" when asked if they had fun and learnt something."
IBMS member Mary Jones told us about her activity at Royal Cornwall Hospital,
"Myself and colleagues held a stand in the main hospital restaurant. This was well received by colleagues and public. Many staff were not aware of what we do and some doctors were interested in the promotional literature to take home for their children.
We had one member of the public who was particularly thankful for the lab staff for performing all his tests whilst he was in hospital. He had visited the stall once with his partner and asked what we do and then came back to thank us. This brought a tear to the eye of my colleague - made it all worthwhile!"
Annie Cook and Bethan Philips organised lab tours and a canteen stand to represent the healthcare scientists working in blood sciences within the Berkshire and Surrey Pathology Services network. Annie said,
"This was a great opportunity to join forces with healthcare scientists from across the service to promote our work across all areas of the hospital. We had really great engagement from staff throughout the hospital and were able to raise awareness of the roles of healthcare scientists, who are often overlooked and rarely given any recognition for the essential roles they have across our hospitals.
As a Biomedical Scientist and trainee on the Scientist Training Programme (STP), I was eager to raise awareness of the variety of roles of healthcare scientists within the blood sciences lab. It was really encouraging to receive so much positive engagement from staff, which has even led to some education requests from certain ward groups particularly relating to pre-analytical effects on blood samples.
Overall this event was a great success experience for all involved and I look forward to promoting the work of our healthcare scientists again next year!"
The IBMS released three sample journey videos to celebrate the role of different biomedical science disciplines. Featuring the stories of blood, urine and tissue samples, viewers can see and learn the different roles biomedical scientists play in patients' healthcare.
IBMS members also tweeted about their activities and shared images from their events in a gallery below.
Ben tweeted:
Have you ever wondered what happens when your bloods, urine or tissue samples go off to the lab? Well wonder no more! Take a look at these 3 short videos from @IBMScience and all will be revealed! ?? @lplclinlabs @BthPathology @UHMBT_Pathology #BSW19 #HealthcareScienceWeek https://t.co/dK1lowHDSE

— ??#hellomynameisben (@radiographerben) March 14, 2019
Annie Cook tweeted:
Had a great day representing HCScientists from across the blood sciences today at our canteen stand @RoyalSurrey. We had so much engagement from staff and patients! @BerksSurreyPath #HCSweek19 @IBMScience @NSHCS pic.twitter.com/dUd0WPQ9Fn

— Annie Cook (@AnnieElizaCook) March 13, 2019
Julie Miller tweeted:
Healthcare Science Week
Pathology at Wigan and Salford doing our bit for engagement @SalfordRoyalNHS @RCPath @IBMScience #hcsweek19 pic.twitter.com/HKZJWtIu8M

— Julie Miller (@LittleJ50) March 12, 2019
We want to thank all of our members who took the time to go out and promote biomedical science.
Back to news listing