Histopathology Transformation Meeting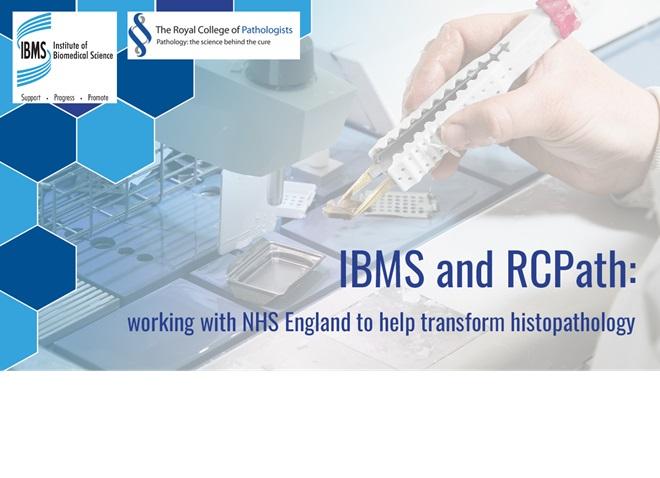 17 November 2023
IBMS and RCPath have supported NHS England to produce their Transforming Histopathology In England plan

Along with RCPath, we met with and supported NHS England to help finalise the launch of their 'Six-Point Histopathology Improvement Plan' - which aims to lead to a comprehensive approach to histopathology transformation.

The event brought together senior leadership and decision makers from Pathology Networks, Cancer Alliances, Professional Bodies, Integrated Care Boards and key stakeholders on the critically important topic of 'Histopathology Transformation and Recovery', as part of the NHS England 'Focus on Diagnostics'.

We were also joined by NHS Supply Chain, NHS England Workforce, NHS Blood and Transfusion, Genomics and Specialised Commissioning and well as industry representatives and suppliers - once again demonstrating our collaborative approach in action.

The meeting was the summation of a process that we have had extensive input into. In addition to re-stating the importance of a system-wide approach, each presentation contributed to setting the scale and context of the challenge and positioned the opportunities available to systems. The event made clear that now is the time for pathology services to be recognised as integral to all clinical pathways and histopathology as a significant enabler of elective and cancer recovery.

The final plan focuses on:
1. Workforce
2. Optimisation
3. Estate and equipment upgrades
4. Lab consolidation
5. Digital pathology, order comms and LIMS
6. Automation.
IBMS President Debra Padgett said:
We welcomed the opportunity to work collaboratively with both RCPath and NHSE to provide a fuller picture of the importance of histopathology in the patient pathway and our position as a significant enabler of elective and cancer recovery.

Engagement with system wide partners during the event enabled us to highlight the role of our highly skilled and highly qualified biomedical scientist workforce in supporting our medical colleagues.
As our Long Term Biomedical Scientist Workforce Plan highlights, better and more widespread use of appropriately qualified biomedical scientists, particularly in advanced practice, would help ease the increasing pressure on histopathology services – by providing additional support to our medically trained colleagues.

The IBMS recently launched two histopathology reporting qualifications for biomedical scientists specifically aimed at supporting the biopsy workload generated by the cervical and bowel screening programmes. The biomedical scientist workforce represents a safe and effective solution, working collaboratively through integrated training programmes, to safely sustain and improve histopathology services, ensuring that every person diagnosed with bowel cancer or cervical cancer receives the right diagnosis and right treatment at the right time.

Our Certificate of Expert Practice Distance Learning course in Laboratory IT and Clinical Informatics will also play a part in the transformation and recovery of the service through its focus on: Medical Laboratory Information Technology, Clinical and Data Governance, Procurement and Project Management, Interfaces, Turning Data into Knowledge, and Digital Futures.

Our recent white paper produced with Microsoft, Digital Pathology and Integrated Care Systems, also helps to outline the advantages, trends and challenges of digital pathology. In it, we champion engaging the public and the system, continued focus on interoperability and standards, standardised information governance policies, patient access to results, digital training, and education for ICSs on the systems in place - demonstrating digital pathology's potential to revolutionise the way pathology is practiced.

Supporting all four UK nations to develop expert and advanced biomedical scientist roles, and raising awareness of new technologies and best practices, is key to helping reduce UK health inequalities and improve access to rapid cancer diagnosis. This now needs to go further to alleviate some of the pressure the current histopathology workforce is facing. It is imperative that we support and upskill the workforce in a manner that is safe, efficient and meets nationally recognised standards so that we provide better quality care for all patients.
Back to news listing