IBMS members at Malvern Festival of Innovation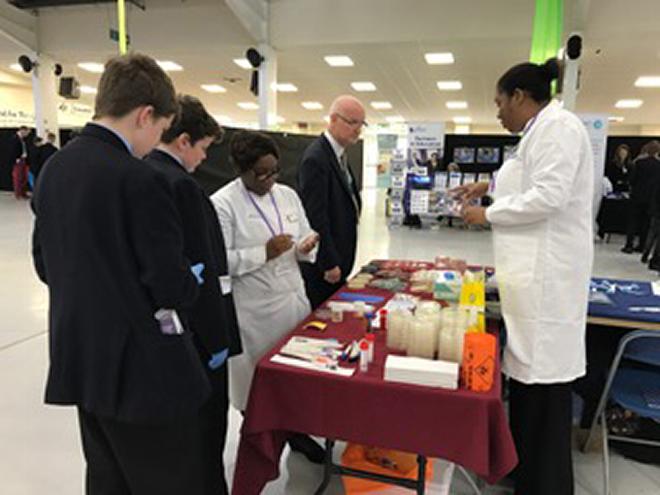 17 October 2016
Biomedical scientists Pavanjit Jheeta, Cassandra Craig, Jeanette Campbell-Adjikere and Michelle Watson provided demonstrations at the Malvern Festival of Innovation on 4 October
Pavanjit's team presented informative talks and fun activities to educate the public. The lessons included:
Definitions of microbiology & pathology
Explanations on antibiotic resistance and why it is happening
A look at the range of samples received in the laboratory
Reasons why patients send labs their samples (including clinical details)
The different types of agar and why agar plates are used to grow microorganisms
How to do disc sensitivity testing and what a 'zone' and 'no zone' around the antibiotic disc means
Students were also given the chance to culture plates with sputum, urine, stool and swab samples (created with orange juice, Nutella and jam). Another popular activity featured Ascaris worms, used to promote safe eating and drinking.
Trainee biomedical scientist Michelle Watson explained:
"Under the microscope we had stained Cryptosporidium spp. oocysts for the students to look at. We also had 3 roundworms to look at (all Ascaris lumbricoides) which grow in the intestines of humans and are most commonly are isolated from patients which have travelled to tropical climates (particularly Sub-Saharan African). The students found this particularly interesting and gruesome when we told them how long they can grow and the routes of infection."
Associate Practitioner Microbiology and Project Co-ordinator Pavanjit commented about the experience at the fair: 'It's great to be able to highlight and demonstrate the importance of what we do and how the Institute promotes this.'
One of the volunteers, Cassandra Craig, talked about her role as a Medical Laboratory Assistant (MLA) and how achieving the Support Worker Portfolio benefited her and enhanced her understanding of laboratory working.
Back to news listing